YouTube is still rapidly growing, despite the fact it's been around since 2005. Moreover, top channels earn millions of dollars per year — and bring smiles to millions of faces per year. So, if you have been thinking about filming and uploading your own videos, you should not hold yourself back for any longer. Take a risk. Grab your camera. Like any other social media (Instagram, Facebook, TikTok,…), you need some inspiration! So, keep reading to get familiar with Most Popular Types Of YouTubers.
Popular Types Of YouTubers
YouTube has more than 1.5 billion monthly active users, and more than 50 million users publish videos each day. The video-sharing platform is home to a diverse range of creators and has become one of the most popular places online to learn new skills, relate to others, and have a good laugh.
YouTubers tend to create video content focused on specific niches, and therefore the population can be organized by category.
There's something for everyone on the platform, and viewers can select from a wide variety of types of YouTubers to find creators they love. You can also find your Popular YouTube content and get some ideas.
Also Read:
What Are the Top10 Most Subscribed YouTube Channels ?
What is a YouTuber Channel ?
"The default channel type…intended for the average user, who may post the occasional family video but isn't looking for an extended following. All other channel types allow the owner to put in extended information about themselves."
Also Read:
Instagrammers and YouTubers : Same Strategies Don't Work For You
What is a Director Channel ?
The Director channel was created to "encourage original content and discourage copyright violation."
"The program is free, but users must agree that all their content is original in order to participate. YouTube Directors may create video content longer than the usual ten minute maximum, and they may specify prices for downloading video content."
Also note that many channels now allow longer than 10 minute videos, and it appears (anecdotally) that the more videos you put up, the longer they may be.
Most popular types of YouTubers providing content
Here we've defined the top 12 types of YouTubers steering the future of the platform. As the platform grows and evolves, many new types of YouTubers are sure to emerge and become popular.  You can get some ideas to increase your YouTube channel engagement.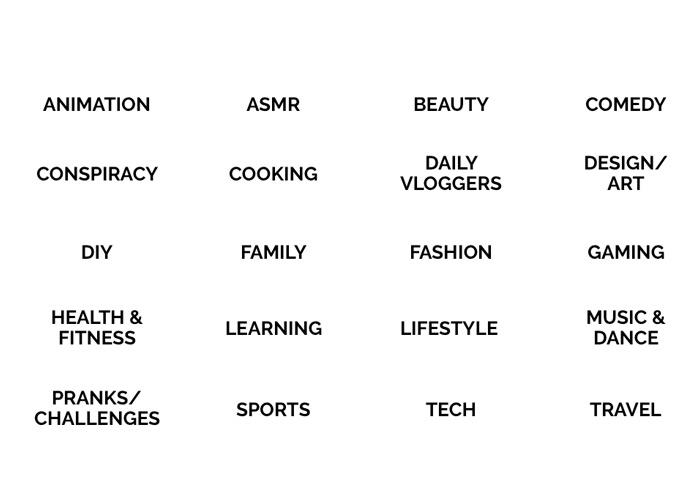 1. Beauty YouTubers
If you are obsessed with makeup, you can create a beauty channel with tutorials on how to create seasonal looks. You can also give reviews on your favorite (and least favorite) products.
Whether performing a makeup tutorial or explaining their skincare routine to viewers, these creators appeal to beauty novices and enthusiasts alike. Moreover, many beauty YouTubers are self-taught, and audiences value their makeup skills and candid opinions of the latest products.
In short, several have leveraged their YouTube success to fuel entrepreneurial endeavors.
Michelle Phan and Rachel Levin are two of the most popular creators within the genre and maintain more than 8 million subscribers each. Phan has her own makeup subscription service, Ipsy, and Levin, though only 22, has appeared on the cover of several magazines including Cosmopolitan.
2. COMEDY/SKIT on YouTube
YouTubers specializing in comedy are known for poking fun at everyday human problems, creating original skits and characters, and publishing content intended to make people laugh.
Comedy YouTubers usually separate content according to topic. Depending on their preferred style they may discuss a topic in a humorous way for viewers, or assume an original character.
Like most successful comedians, top comedy YouTubers are unabashedly self-deprecating and have excellent observational skills. Jenna Marbles and Ryan Higa are two notable examples and boast 17 million and 20 million subscribers respectively.
3. Popular Types Of YouTubers: Animation
If you have always dreamed of drawing cartoons, you don't have to wait for Disney or Nickelodeon to call.
Meanwhile, you can create your own series and upload it to YouTube without any outside help!
4. Gaming YouTubers
If you love playing video games, you might as well record commentary over them. Focusing on beating levels while actively engaging with your audience is harder than it looks — but you'll get the hang of it if you're passionate enough!
Further, you can make good money if you get More YouTube Subscribers.
5. Types of YouTubers: TECH
Unlike other types of YouTubers who might share their personal life with viewers, tech YouTubers build their following on the basis of one subject: technology. Frequently these creators publish unboxing videos and product reviews and tell audiences what they like and dislike about particular features.
Above all, tech YouTubers also have a strong eye for detail. Their knowledge of technology allows them to compare new technology to previous models and make critical judgments on the value of upgrades.
6. Popular Types Of YouTubers: Cooking
You don't have to wait until your masterpieces are complete to post pictures on Pinterest and Instagram. You can upload the entire process in a video format to teach your audience the steps.
For cooking connoisseurs and those just learning to cook, cooking YouTubers are an excellent source for new recipes. This type of YouTuber teaches viewers how to prepare meals through guided tutorials.
Within the cooking genre, many YouTubers specialize in one specific cuisine or type of food. Rosanna Pansino, a creator with 9 million subscribers, shares a new baking video with her audience weekly. Other creators focus on easy to prepare meals, extravagant meals, or healthy meals exclusively.
7. FASHION Youtubers
YouTubers that fit within the fashion category specialize in clothing and accessories. The most successful come to the platform with a strong sense of style and an eye for upcoming trends.
Top fashion YouTubers have subscribers in the multi-millions and frequently start their own clothing lines or lifestyle businesses. Zoe Sugg of Zoella and Ingrid Nilsen are two of most well-known fashion YouTubers today.
8. Fitness among popular video channels
If you have workout tips to share, spread them around! Even if you are struggling to stay in shape, you could upload videos about your journey to get healthier. Uploading regular videos will keep you motivated.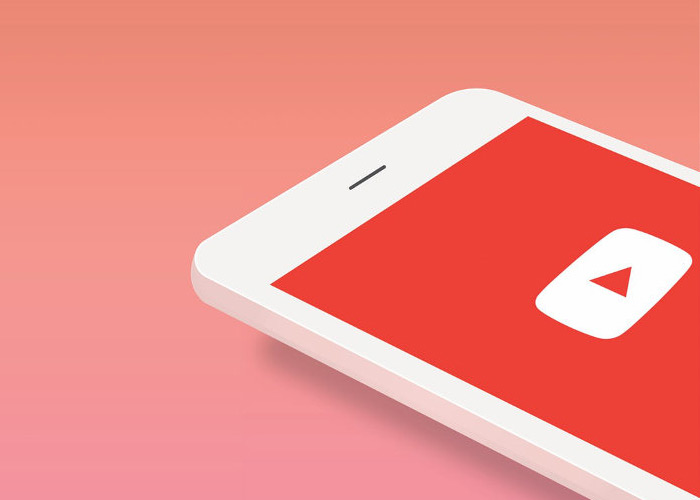 9. TRAVEL bloggers on YouTube
As YouTube has grown the platform has become a hub for first-hand travel and adventure knowledge. Previously, individuals relied primarily on websites and books to plan vacations.
Today, travel YouTubers or Travel bloggers bring viewers on their adventures and lend helpful travel recommendations along the way.
Typically, travel YouTubers divide their content according to location or attraction. Depending on the creator they might present their travel experiences through highlight videos or most importantly through detailed vlogs.
Two of the most popular travel YouTubers, DevinSuperTramp and Exploring With Josh, have over 2.5 million subscribers each. Viewers live vicariously through their adventures while simultaneously learning about some of the world's most breathtaking locations.
10. Vloggers on YouTube
Vlogging is very popular these days! Daily vloggers are some of the most consistent creators on YouTube, publishing a video every day. This type of YouTuber uses two main camera angles to capture their daily life: one where the camera faces outward and another that's selfie-style.
Two characteristics are unique to this YouTuber type: (1) the ability to create a compelling storyline out of seemingly ordinary events and (2) the ability to provide engaging, improvised commentary as they film. The best daily vloggers feel like close friends.
Also Read:
Sound Quality Tips : A Vlogger's Guide to Better Audio
11. ASMR videos on YouTube
Autonomous Sensory Meridian Response (ASMR) YouTubers make up one of the fastest growing YouTube niches.
The term ASMR specifically refers to a physical sensation similar to someone lightly running their fingertips over your skin.
Subsequently, these creators use soothing sounds and imagery to relax viewers.
12. Most Popular Youtubers: DESIGN/ART
Just as animation YouTubers have found their place on the platform, creators specializing in design and art have as well.
Design/art YouTubers are those who create videos showcasing their art expertise and help others to improve their artistic skills. Creators within the group explore many different mediums, including traditional drawing, digital drawing, graphic design, and painting.
Similarly, artists on YouTube often publish tutorials, challenge videos, and collaborations with other artists. Some also review the latest art supplies and provide product recommendations to viewers.
Josiah Brooks of Draw with Jazza and Mei Yu of Fun2draw are two of the most subscribed design/art YouTubers today. Moreover, both have over 1.5 million subscribers. Mei Yu has launched her own drawing app and Brooks has partnered with Best Fiends, Skillshare, Wix, and more.