How To Verify Your Pinterest Account and Why You Should!
Verified accounts on Pinterest
Pinterest : We want people to find the content that they're expecting to find on Pinterest, which is why there are checkmarks next to certain notable names like celebrities, brands or media. The goal of this checkmark is to help people to find the accounts they're looking for (for example, you should be able to easily distinguish Abraham Lincoln's Pinterest account from the Pinterest account for an Abraham Lincoln fan site.)
If you want to help Pinners know you're a trustworthy source, add your logo as your profile picture and make sure you've claimed your website (Remember that claiming your website and verifying your profile are separate). For other tips on how to build your brand and get discovered on Pinterest (hint: add the Save button to your website), check out business.pinterest.com.
related guides :
Pinterest is introducing verified accounts for public figures
Public figures, celebrities, and brands will soon be able to get their Pinterest accounts verified like they can on Twitter or Facebook, the company announced this morning.
From now on, you'll never have to guess whether you're following the real celebrity chef Alton Brown or an imposter. The not-famous Martha Stewart's of the world will no longer be mistaken for their public figure counterparts.
Although getting verified is especially important on Twitter, where it's all too easy for fakers to sabotage someone's public persona, not all social networks rely on a check mark evenly.
For now, Pinterest is working with a select group of notable names, and it's not accepting applications. If you want a little red check mark, Pinterest needs to come to you.
The verification announcement came along with a host of search updates as well. Pinterest introduced autocorrect, trending searches, and a new filter button to let users refine search by Pins, Pinners, boards, or their own pins. It will also allow users to search faster than ever with a new auto-fill feature similar to what Google uses to guess your query before you fully type it out.
….
Verified accounts on Pinterest have a small red checkmark inside their profile photos. Verified badges are issued only to certain notable names like celebrities, brands or media. The goal of the checkmark is to help people find the accounts they're looking for.
To get verified on Pinterest
Convert your account to business account
Claim your website on Pinterest
Ensure you profile is complete
Link your verified Twitter profile or Facebook page to your
Pinterest business account
Then contact Pinterest on this page with your request
---
Here's a quick 3-step-process to help you verify your website on Pinterest along with the key benefits of doing this today.
How To Verify Your Website
First log in to your Pinterest account as you usually do using Facebook, Twitter or your email account. Then click on your profile name and select the "Settings" option.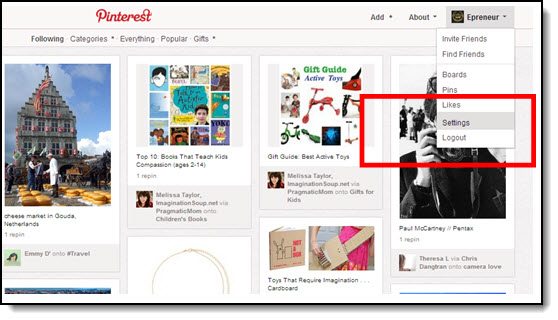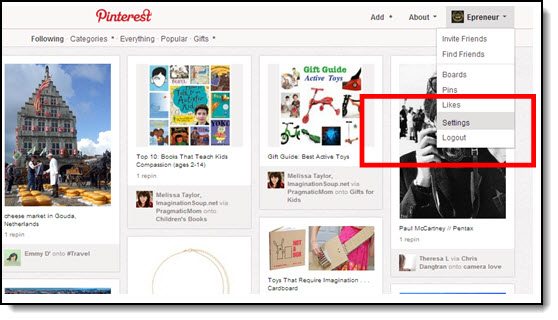 You will be taken to your Settings page where you can change or update any of your profile settings.
Scroll down to the bottom of the page to the Website box where you may have already added your URL. There should be a Verify Website button to the right.


Click on that button and a new page will appear with the following instructions. Keep this page open during the verification process.
Step #1 Download Your Unique HTML Verification File
The first thing you need to do is download a HTML file to your computer. I suggest you add it to a location that you will be able to find easily such as the desktop.
Be sure to make a note of the unique file name which will be in the form pinterest-xxxxx.html with "x" denoting random letters and/or numbers.
Step #2 Upload The File To Your Server
The next step is to upload this file from your desktop to the server associated with the domain you are using on Pinterest. This sounds tricky but is in actual fact pretty straightforward – and even I, a self-confessed non-techie managed to do it!
Essentially, you are moving the verification file from your local computer to your website on your hosting account via FTP (File Transfer Protocol).
If this sounds too technical then I recommend you hand this job over to your usual tech person or webmaster. You can also hire someone to do it for you on the micro-jobs site Fiverr for just a few dollars.
Pinterest is aware that some users may experience difficulty with the verification process so a third option is to contact Pinterest support directly via this link
Help, I Can't Verify My Website!
However, if you are tech-savvy and up for a spot of DIY, then I recommend you use a great free FTP solution called Filezilla to verify your website. Just download the appropriate version of the software (PC or Mac) to your computer and follow the step-by-step instructions on the website.
Be sure to transfer the file to your main domain and not a sub-folder otherwise Pinterest won't be able to find it. It's also worth noting that this feature is currently only available for top-level domains, like www.JeffBullas.com or www.Epreneur.TV and not sub-domains.
There's one more thing to bear in mind. If you have an ecommerce business that is hosted on sites like Etsy, Shopify, or eBay then you won't be able to verify your website on Pinterest because these sites don't allow you to upload HTML files to their servers.
Step #3 Verify The Website On Pinterest
Once this is done, just head back to the Verify Website page on your Pinterest account and click the link that says "Click here to complete the process".

Pinterest will then check your website for the HTML file they gave you.
If you've uploaded the file correctly, a red circle with a check will appear in your settings page confirming that your website has been successfully verified.
And that's it!
Now, if you take a look at your About section, you'll notice a nice full URL displayed at the top of your Pinterest page as in the image below.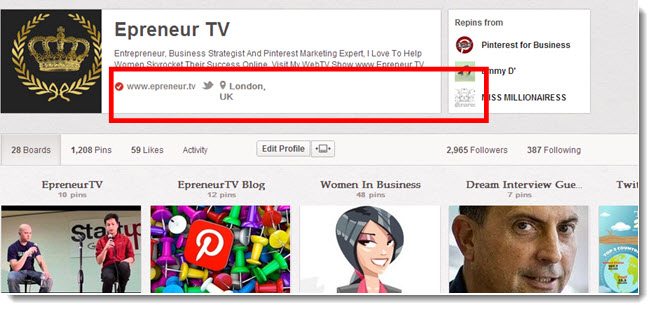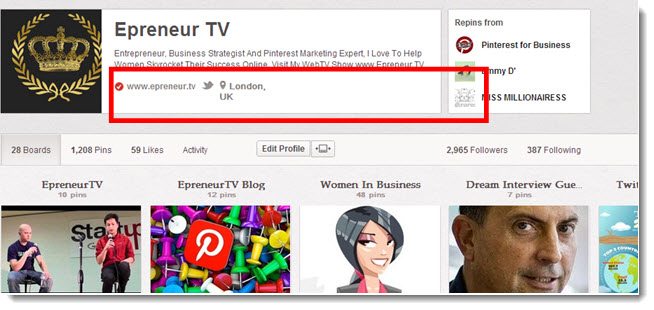 The Benefits Of Verifying Your Website
So what's the point of doing all of this?
#1. More engagement and traffic
Well up until now Pinterest users had to click on an icon to visit your site. Now your URL is prominently displayed at the top of your Pinterest page which creates a dramatic effect.
Other pinners can find out about you and your business quickly and easily, especially if they are already following you and enjoying your content. This is bound to increase engagement and drive more traffic back to your website! And who doesn't want more traffic?
#2. Boost your online visibility and SEO
Another bonus is that unlike the other links within Pinterest this feature appears to create a Do-Follow link (for the time being at least). This means that you could get some extra link juice in the form of SEO benefits.
Pinterest will most likely change this in the near future as they did earlier this year for their other links, so it's worth verifying your website straightaway.
What do you think about Pinterest's new verification feature? Will you be doing this for your website on Pinterest? Have you found Pinterest beneficial for your business as a whole?
source : jeffbullas
---
Pinterest
Pinterest was first conceptualized in December 2009 by cofounders Ben Silbermann, Evan Sharp and Paul Sciarra.
The first prototype was launched in March 2010 and made available to a small group of colleagues and family members.
In early 2011, the company secured a US$10 million Series A financing led by Jeremy Levine and Sarah Tavel of Bessemer Venture Partners.
In October 2011, after an introduction from Kevin Hartz and Jeremy Stoppelman, the company secured US$27 million in funding from Andreessen Horowitz, which valued the company at US$200 million.
Retail companies use Pinterest for advertising and style trending. Pinterest intends web design to support "style conscious retailers", where customers can visualize products within a consumer context.
Companies like The Gap, Chobani, Nordstrom, and West Elm use Pinterest to gather online referrals that link users with similar interests to a company.
The Gap has arguably taken the biggest initiative in their use of Pinterest, employing their own themed pinboards such as "Denim Icons" and "Everybody in Gap".
Pinterest played a role in the run-up to the 2012 US presidential election. The wives of both candidates created accounts. Ann Romney debuted her Pinterest account in March and First Lady Michelle Obama announced hers in June.
In May 2012, Pinterest was valued at $1.5 billion. In February 2013, it was valued at $2.5 billion. In October 2013, it was valued at $3.8 billion. In May 2014, it was valued at $5 billion. In June 2015, it was valued at $11 billion.
In May 2015, Fortune Magazine listed Pinterest in the 8th position on its Unicorn List, which ranks startups that have a valuation exceeding $1 billion. As of 2017 the company is valued at $12 billion.
In June 2015, Pinterest added the "Buy" button to its mobile app.
In Alex Heath's article on Business Insider, he sheds a light to Pinterest's interest in becoming a search company, hence, "the company is putting search front and center in its app with [Pinterest Lens].
In March 2019, Pinterest added product catalogs and personalized shopping recommendations with the "more from [brand]" option, showcasing a range of product Pins from the same business.
Copyrighted content
Pinterest has a notification system that copyright holders can use to request that content be removed from the site.
The Digital Millennium Copyright Act (DMCA) safe harbor status of Pinterest has been questioned given that it actively promotes its users to copy to Pinterest, for their perpetual use, any image on the Internet.
Pinterest users cannot claim safe harbor status and as such are exposed to possible legal action for pinning copyright material. Pinterest allows users to transfer information; intellectual property rights come to play.
A "nopin" HTML meta tag was released by Pinterest on 20 February 2012 to allow websites to opt out of their images being pinned. On 24 February 2012, Flickr implemented the code to allow users to opt out.
Pinterest released a statement in March 2012 saying it believed it was protected by the DMCA's safe harbor provisions.
In early May 2012, the site added automatic attribution of authors on images originating from Flickr, Behance, YouTube and Vimeo. Automatic attribution was also added for Pins from sites mirroring content on Flickr.
At the same time, Flickr added a Pin shortcut to its share option menu to users who have not opted out of sharing their images.