TikTok Marketing for Beginners
A Marketer's Guide to Advertising on Tiktok

TikTok has seemingly exploded from nowhere to become one of the most downloaded apps in the world. It began life as a moderately successful video-sharing app – tagged Douyin in its native China and TikTok in the rest of the world. In 2018, however, it bought out the better-known app, Musical.ly, migrating all its non-Chinese users to a new combined TikTok platform. The company still operates Douyin as a separate app in its home country. It should be no surprise that marketers have begun to see the potential of the platform. This is our TikTok marketing guide, suggesting possible ways that businesses can make the most of TikTok and its young audience.
TikTok Marketing Guide:
TikTok Enjoys More than 800 Million Installs
Probably the most significant impediment to TikTok marketing success has been that most marketers (and business managers) older than 30 have never heard of the platform.
It has made the news a few times lately because of concerns over whether it is safe for youngsters. This came to a head in early April when India's Ministry of Electronics and Information Technology ordered TikTok be removed from app stores, after a High Court in Madras stated the app was encouraging pornography and other illicit content. The ban was short-lived, however, and the court lifted the ban on April 22, after TikTok more closely scrutinized its content, removing over 6 million videos it believed violated its terms of use and community guidelines.
That concern aside, TikTok has grown tremendously over the last year. The app was the most downloaded free iOS app over the first half of 2018. It also topped Google Play in October 2018. Overall, TikTok ranked third in the world in November 2018.
how to get verified on tiktok ?

TikTok enjoyed over 1.1 billion installs as at March 2019. Users downloaded it more than 660 million times in 2018 alone, with a further 188 million downloads during Q1 2019. More than 500 million people globally use TikTok each month. The short-term Indian ban must have been a real concern to TikTok's management, as 43% of its global users come from India (remembering that these figures exclude the Chinese users of Douyin).
What is TikTok?
TikTok encourages its users to upload short videos. Most of its former Musical.ly users simply uploaded videos of themselves lip-synching to music videos. The more talented, enthusiastic, and technically proficient members uploaded videos of original content, and it is these people who became the influencers on the platform.
Most TikTok videos are up to 15-seconds long, although you can create and share 60-second Stories-type videos.
Both the original TikTok and Musical.ly targeted the same audience – teens and tweens. Therefore, it is no surprise that the combined TikTok also focuses on 13-24-year-olds.
TikTok App : More than 20% of social users will use TikTok !
One thing that did change with the platform's growth in popularity is that there is now more variety in the types of videos people share. They are no longer just music. Up and coming comedians performing stand-up routines, skateboarders showcasing their skills, pranksters, dancers, fashion buffs, budding beauticians, and craft fans, all take the chance to share videos demonstrating their talent. And now we are even seeing people sharing videos featuring them using their favorite products.
Of course, not all TikTok's users have the confidence, bandwidth, or skills to create videos. Just as many of YouTube's viewers are lurkers, merely looking for exciting content to consume, quite a few TikTokers also take a more passive attitude towards using the app.
Indeed, TikTokers don't even need to follow anybody. They can simply open their app, go to their Discover page, and start playing videos that look like they'll interest or entertaining. They can even search for videos on preferred topics by using relevant hashtags.
Over time, though, most TikTok users will come to like particular types of videos. They are likely to subscribe to channels that regularly share "their" types of video. Every TikToker has a profile page, and this highlights the videos they've uploaded.
how To Increase TikTok Views & Get More Followers ?
Who Uses TikTok?
Musciall.ly actively targeted Generation Z, with a female bias. It is too early to see if there is any real change with TikTok. It is still overwhelmingly favored by younger people, however, with 66% of its users under 30. A similar percentage of TikTok users are female.
It has international appeal, with large numbers of users in the USA, India, and in the form of Douyin, China. Douyin has reported 400 million monthly users.
Douyin has operated in China since 2017. In the beginning, over 50% of its users were under 24. Notably, those early Douyin uses appear to have stayed with the platform as they have aged, meaning that the average age of Douyin users has gradually crept upwards. As at February 2018, only 31.8% of Douyin users were under 24, with 23.4% of users aged 25-30, and another 23.4% of users aged 31-35. It will be interesting to see if we see a similar trend with TikTok in the rest of the world over time.
How Can Brands Use TikTok?
There are three main ways that brands can market on TikTok.
They can create their own channel and upload relevant videos through their channel
They can work with influencers, to spread content to a broader audience
They can pay to advertise on TikTok – it is very early days for TikTok advertising – there certainly isn't a market yet like there is for YouTube. However, TikTok may become more popular and established over time.
Many brands do a combination of running their own channels and working with influencers to spread content to a broader audience. You might try some of the ideas listed below on your own channels, or you may suggest that your influencers create and share these kinds of content.
TikTok is the social media ! Could I become its new star?
Hashtag Challenges
Challenges are an essential feature of TikTok's community. TikTok's users love taking up a challenge and making and uploading videos accordingly. These challenges are usually given a #-tag name, to make them both memorable and easy-to-find.
Perhaps the best-known challenge was US tv personality, Jimmy Fallon's #tumbleweedchallenge. He challenged users to upload videos showing themselves dropping to the ground and roll around like a tumbleweed, complete with a western music theme playing in the background. This led to over 8,000 submissions and more than 10.4 million engagements. Jimmy Fallon has continued to give TikTok challenges back since then.
Brands can also encourage hashtag challenges on TikTok. Unless your brand has managed to build up a popular TikTok channel of its own, you will probably do best to work with influencers to kickstart your #hashtag challenge. Once a #hashtag challenge is launched on TikTok, people can participate with just a few clicks.
User-Generated Content
Again, this is a type of marketing that brands can either base from their own TikTok channel, or alternatively, work with influencers to encourage their follows to create user-generated content (UGC) supporting the brand in some way.
Generation Z loves the full immersive experience. That's why they don't sit at home watching traditional broadcast TV – it's too much of a passive experience. Generation Z far prefers to be involved.
If you can find a way to encourage your customers to share videos of themselves using or interacting with your products ins some way, you're likely to get a high buy-in.
Chinese restaurant Haidilao discovered this with a DIY option on their menu. Customers who selected the DIY menu item created their own unique off-menu dish and then filmed the experience. Being Chinese-based, Haidilao encouraged their clients to share their videos on Douyin.
Snapchat vs. TikTok Marketing : Which platform is best for my brand ?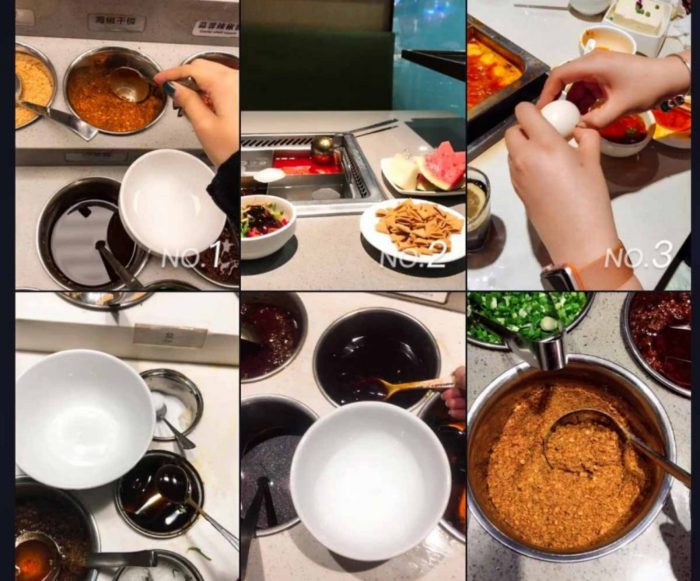 Once a few patrons uploaded their culinary attempts, others flocked to the restaurant so that they could also create their meal and video. Ultimately, more than 15,000 people requested the DIY option; 2,000 ultimately uploaded videos of their creations, and 50 million people viewed the videos. We have also developed a tool to serve as a guide to Influencer earnings on TikTok. This should give you a better indication as to influencer pricing for user generated content campaigns.
Traditional Influencer Marketing
Of course, all the influence marketing techniques you see on other video-based platforms, such as YouTube, work on TikTok too. If your product suits an influencer's audience, your TikTok influencer campaign should succeed. In most cases, you should leave it to the influencers to create the content – they know what their followers like.
As always, the key to influencer marketing success is setting appropriate goals, targeting a specific part of the purchase funnel. The young broadcasters of TikTok need to remain authentic to their followers for influencer marketing to succeed.
Often all a brand needs to do is to encourage influencers to make videos depicting them wearing or using the sponsor's product. Again, this will only work if the influencer is the sort of person who would typically use the product. There is little value trying to encourage an influencer to promote an inappropriate product. You're not going to sell retirement homes or hearing aids on TikTok successfully.
Another side effect of TikTok's young clientele is that they are far less interested in flash camerawork and high video production values. You need to trust your influencers enough to produce their videos their way – even if they look amateurish to a marketer's eye. TikTokers are interested in originality and fun, rather than the quality of your videos.
TikTok Advertising
TikTok has experimented with advertising over the last year but has not yet set up any formal profit-sharing system yet. However, they are getting closer to the point where more people will be able to advertise on the platform. They started showing short ads in January 2019.
They created an advertising pitch deck in late 2018, giving an indication of the types of ads that could eventually be made available to brands on Musical.ly. Somebody leaked the document to Digiday. Possible ad types include:
Brand takeover
In-feed native video
Hashtag challenge
Snapchat-style 2D lens filters for photos.
TikTok is currently testing ads in both the US and Europe.
---
Tiktok Marketing Strategy for Business
A Guide for Beginners
The former Musical.ly that was taken over by ByteDance, a Chinese company in 2016 turned into becoming one of the most profitable and downloaded apps in the world. Now known by the name TikTok, this free app is a combination pack of the vines, Twitter, and Instagram. TikTok, with over 500 Million monthly users has surpassed the total download records of Instagram in the first half of its release.
TikTok marketing strategy is the talk amongst marketers for its effective tools and technique which are content based and ensure significant growth of the brand in least sponsoring. The app allows its 795 Million international users to create short 15 seconds videos, musical dubsmashes, and many other activities just as social media apps.
Initially launched as "Douyin" in the Chinese market It later got rebranded as TikTok with the strategy to serve the international market. It became the fast trending free app which continuously competes in the first three spots for downloads in the apple store. Lip Syncing videos are the Tiktok specific features which are used by almost all users.
How TikTok Marketing strategy for Business helps Monetize Trending Hashtags
Applications these days have helped many businesses reach their target customers and future markets as well. Looking from the point of a marketer in search of the target market, one would prefer promoting on different channels to attract required and relevant customers.
Taking an example for this, we would always pick LinkedIn if we are targeting professionals while we promote Facebook pages and groups to reach many niche groups. Meanwhile, TikTok is having growth at exponential rates for the fun that it offers to its users who belong to the age group between 10 – 19 years old.
The app grew more because of celebrity fan following where people like Jimmy Fallon started off hashtag challenges like #tumbleweedchallenge on Tiktok that got a lot of entries, which in turn gathered millions of views. TikTok challenges are significant pillars of promoting brands and events as they show the relevancy of the product or service being pushed by the concerned organization and business.
There have been challenges that were started by business houses themselves such as the McDonalds which ran #bigmactiktok challenge that not just involved customers but also gave them fantastic engagement on the social media handles as well. Challenges on tiktok despite having any offering or prize does get equal shout outs and traffic insights due to their popularity.
The application has added feature tools that check misuse and harassment online, thus making it an excellent way for marketers to promote their brands. Branding and promotion through TikTok is an effective medium to get maximum reach in the least investment. These hashtag movements involve just the relevant celebrity or influencer and useful content to push the message which anyhow goes viral online.
How to promote your brand through TikTok Marketing?
Well to get your brand's product and service noticed and clicked you can try out these five popular ways:
1. In-feed native ad: If you enjoy Instagram stories in full-screen mode and feel how good they help in advertising, then TikTok In-feed native ads are just the tool for you. These have options of adding website links and order now buttons on the ad itself, which helps users to land on the page directly.These are skippable ads and have multiple options on them for designing the overall ad. The usage of the ad can be traced by click-through rates, impressions, total views, video viewing time, and the engagements received.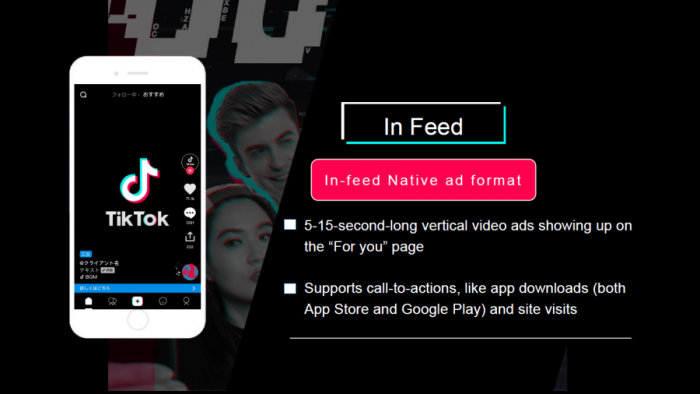 2. Hashtag challenge ads: In these type of advertising the user gets to see a specific banner ad that will take the user to the page of instructions and rules of the featuring challenge. The banner is put up on the discover page and depends on user content. It can be measured with insights that include banner views, clicks, number of user-generated content, number of views, engagement, and trending slot.This sponsored tool targets specific consumers, and there are more probable conversions. A classic example of TikTok marketing strategy is the #inmydenim challenge where any user who opened the app got redirected towards the challenge page with the banner ad.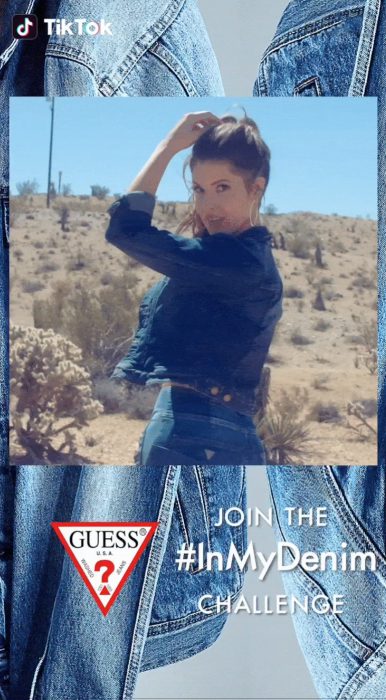 3. Brand takeover ads: One of the purest forms of TikTok advertising where images, Short video clips and GIF's turn out to be precursors of the brand's landing page or the hashtag challenge if any set. These are category exclusives, and hence only a single brand can take up a particular category per day. Reach can be measured by Impressions, click rates, and unique reaches. The brand takeover ads are effective because TikTok marketing tools are simple, user friendly techniques that has got great effects on branding a particular product or service.
4. Hashtag challenges: The most popular twitter inspired activity that gathers audiences and spreads the brand message organically. The hashtag challenge campaigns are mostly non-sponsored, and with the right content, they have the ability to make any marketing strategy popular amongst the users and consumers.Hashtag challenges by influencers are more achievable for their extensive reach, thus making it a far-flung accepted ad concept. Additionally, it garners a considerable number of organic engagements. All you require is some blogger and influencer contacts and ideas of challenges that are doable and fun, along with being relevant to the message that is getting pushed.
5. User participation: Most accessible and engaging mode of advertising on TikTok marketing strategy is user participation. Basically, user-generated content is used to promote the causes and brands with tools and features that make it easy and enable users to post ideas and content by themselves tagging the trending topic and concerned brands.To understand this concept, we can see the ad work done by Chinese restaurant Haidilao. The restaurant added the DIY option to its menu where users can select it and video the way their food is made as per their choice of ingredients. This concept encouraged more than 15000 users to film their experience at one of their chain of restaurant and post it up which got 2000 videos being shared on the app with over 50 million views on it.
TikTok marketing strategy for business now has sets trends
, has popularity, and reach capabilities which are rising with each month passing by, and marketers must consider giving it a try this time if they haven't yet done so.