Snapchat vs TikTok
A look at the key differences between Snapchat and TikTok.
A guide for marketers
TikTok is having a moment. Whether you use the app already or have spotted TikToks popping up on other social platforms, it's clear that TikTok isn't just another fleeting trend. It's here to stay.
Yet it's easy to see how someone not familiar with TikTok (ahem, your boss) might dismiss it as a Snapchat reboot. Worse, they might assume content from Snapchat can be repurposed on TikTok.
The two platforms share similar features (and yes, similar audiences) but their value offerings are entirely different. TikTok is a video sharing app for short clips set to music while Snapchat is a photo and video messaging app centered on 'Stories' and other short-lived formats. Each platform offers unique ways to connect with audiences if used the right way by the right type of brand.
If you're not sure where your brand fits in – or if it even fits in at all – you're in the right place. Below is a simple guide that highlights key differences between TikTok and Snapchat along with essential considerations for brands looking at either app as a potential marketing channel.
At a glance…

Launched: 2011
Core features: Video and image capture, Story creation, text and video chat, camera filters, lightweight editing tools, AR 'Lenses', Discover tab, (Snapchat-native content covering user interests and subscriptions), Snap Maps
U.S. demographic: Primarily Millenials, with 78% of internet users aged 18-24 on the platform. Roughly 61% of Snapchat users are female and 38% are male*
Who users follow: Friends, celebrities, publishers
Daily active users: 218 million globally*
Total downloads: 75 million globally* in 2019
Revenue: $561 million in 2019*
Some brands using Snapchat: Taco Bell, Paramount Pictures, Warner Bros., Burberry, Target, MTV
How to get verified on Snapchat ?

Launched: 2017 in China, 2018 internationally
Core features: Video capture, powerful editing tools, filter effects, creation prompts (reactions, hashtag challenges), sound library, 'For You' page (TikTok's algorithm-based discovery feed)
U.S. demographic: Primarily Gen Z. 41% of users are between ages 18-24* and 27% between 13-17. Approximately 60% of TikTok users are female; 40% are male.
Who users follow: Content creators, celebrities, brands
Daily active users: 41 million gobally*
Total downloads: 738 million globally* in 2019
Revenue: $176.9 million in 2019
Some brands using TikTok: Chipotle, E.l.f. Cosmetics, Guess, ESPN
How to Get TikTok verification ?
The basics: TikTok
What it is. TikTok is a rapidly growing video-sharing app that launched in 2017 by Chinese tech company ByteDance. In October 2018, TikTok was the most downloaded app in the U.S. and reached a record 1.5 billion downloads globally at the end of 2019.
How it's used. Users create and post short, looping videos set to TikTok's massive library of music and sound bites – often with humor or talent as the focal point. TikTok isn't necessarily the place for serious life updates or connecting with friends. Instead, users rely on TikTok for entertainment and follow creators with quality content. Common TikTok videos include choreographed dances, lip-syncing, hashtag challenges, reaction videos, and cringe-worthy content.
Audience. The app has rapidly become a Gen-Z favorite, with 42% of users between ages 13-16 actively using the app. Users create and post short, looping videos set to TikTok's massive library of music and sound bites – often with humor or talent as the focal point.
Advertising. TikTok's ad product is still in its early days. For now, advertising is only offered on a CPM basis (cost per thousand impressions) as TikTok's self-service ad platform is still in beta. Ad units currently available include:
In-feed native video ads
Brand takeovers (a full-screen ad that appears when a user first opens the app)
Hashtag challenges
Branded filters
Topview ads (similar to brand takeovers but uses in-feed content)
Influencer brand partnerships
TikTok is the social media ! Could I become its new star?
The basics: Snapchat
What it is. Snapchat is a mobile messaging app for sharing text, photos, and videos with friends. It launched in 2011 under the premise of sharing photos with a 10-second expiration, but has since evolved to focus on ephemeral video content in the form of Stories and curated 'Discover' series.
How it's used. Snapchat offers a way for users to keep up with friends, relevant news, and popular trends. A big draw is the ability to capture ephemeral content and publish it as a Story for followers to see and engage with for up to 24 hours. Snapchat has been investing heavily in AI and AR capabilities (or 'Lenses') to give brands and users more immersive creative abilities – like object scanning, try-on effects, and 3D environment interactions.
Audience. The platform is most popular among millennials and currently claims around 218 million daily active users (DAUs).
Advertising. Snapchat offers a range of advertising options through its self-serve ad platform, from standard Snap Ad units that appear between stories to ads that use branded filters and AR lenses. Snapchat also has an e-commerce component with shoppable ads, personalized targeting, and a native checkout feature.
TikTok and Snapchat: Content comparison
Samsung x Snapchat (Snap Ads format):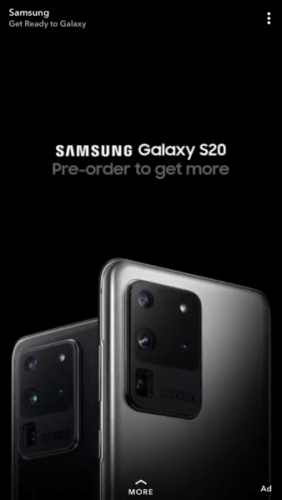 Samsung x TikTok (sponsored challenge):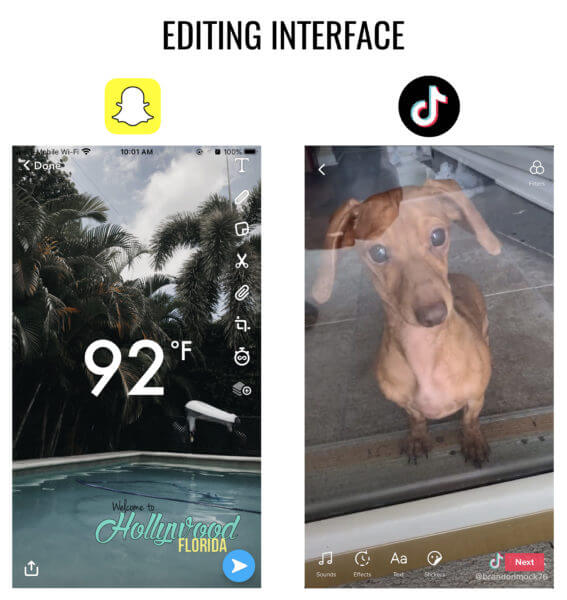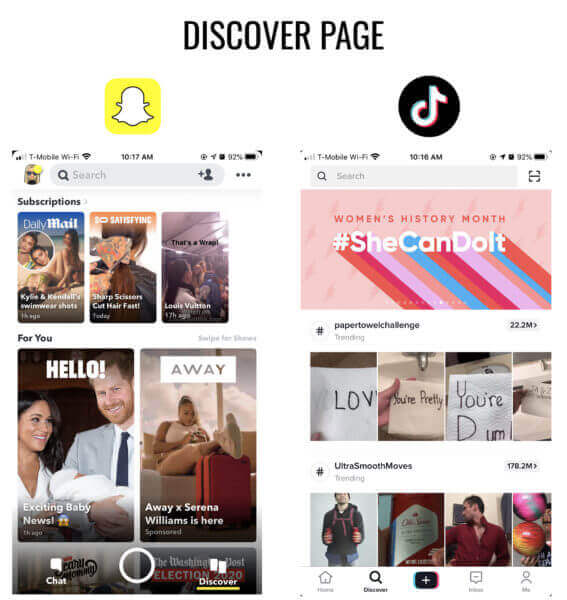 The marketing questions: Which platform is best for my brand?
What's your objective? Both TikTok and Snapchat offer top-of-funnel opportunities for brands to connect with audiences. Specifically, TikTok can be effective for driving awareness with user-generated content (UGC) in the form of brand challenges, reactions, or filters.
While there are opportunities for brands to take advantage of UGC on Snapchat, the platform is better for sharing fleeting life moments and surfacing relevant content that the user might care about – like original series or Stories.
Plus, Snapchat's shoppable and native checkout features can be a big draw for retail brands (especially D2C). The platform also has a hold over TikTok with more mature advertising options, while TikTok's use for brands is still much more experimental. Don't expect to find instant success marketing on TikTok, especially since it's driven by users who value humor and fleeting trends (which might not work for all brands).
Consider your audience. Are they young and full of untapped meme energy? Look to TikTok. Tiktok users want a digital experience that's authentic, homegrown, and downright entertaining. It's part of the reason why reactions and brand challenges have taken off at warp speed. Instead of standing by and watching social play out from a distance, TikTok users are diving in head-first to leave their mark in near real-time, and brands can lean into that organic content creation process.
Since Snapchat is still a home for the Millenial generation, brands on the platform can capture more conventional, mainstream interests. As a whole, brands with audiences that skew younger should probably be experimenting with both Snapchat and TikTok.
Think about the content. If you're focused on creating quality content with a traditional brand message, Snapchat is likely the better channel. Brands can get creative with Snapchat's AR and Lens capabilities while still offering built-in ("swipe-up") features for a more immersive user experience.
TikTok content isn't concerned with aesthetics or how good something looks, which makes it both a challenge and opportunity for brands. To be successful on TikTok, a brand's content needs resonate with young users while offering the ability to engage with it.
how To Increase TikTok Views & Get More Followers ?
Brand uses cases
TikTok x Chipotle Mexican Grill. Chipotle's first viral TikTok challenge kicked off in May 2019 after a customer filmed a video doing a lid flip, which Chipotle then posted to Instagram. The post racked up over a million views, prompting the brand to turn to TikTok to invite customers to try the lid flip trick for themselves with a branded hashtag challenge. The #ChipotleLidFlip challenge received over 104 million views, 111,000 video submissions, and over 59,000 participants during the campaign.
TikTok x e.l.f. cosmetics. Makeup brand e.l.f. also found viral success with TikTok's hashtag challenge format. With over 3 million organic views of the #elfcosmetics hashtag on Tik Tok, the brand developed its own challenge to engage with the creator-driven community. The brand commissioned a made-for-TikTok music track for its #eyeslipsface campaign, prompting users to showcase their e.l.f. makeup looks set to the song.
Snapchat x Top Gun: Maverick. In December 2019, Paramount Pictures launched an AR-driven UGC campaign with Snapchat's Cameos feature, in which users could add creative elements to their shots with digital overlays used to promote the film. Snapchat users who were interested in seeing more promo content from the film had the option to watch the entire 2-minute trailer.
Snapchat x Coca-Cola and McDonalds. Snapchat released "Snapchat Scan" in December 2019, and McDonald's and Coca-Cola were the first brands to jump on board. The feature offers image-recognition so users can scan logos to unlock AR lenses and content. With Coke and Mcdonalds, users simply had to scan the packaging on their food or beverage to gain access to exclusive branded lenses. It's a key example of how brands on Snapchat can engage users by blending creative content with elements of the physical world. According to Snap's product marketing manager Carolina Arguelles, "using Scan in this way offers so many possibilities for brands – from creating fun, shareable moments, to sharing product information or offering a virtual trial."
---
TikTok Marketing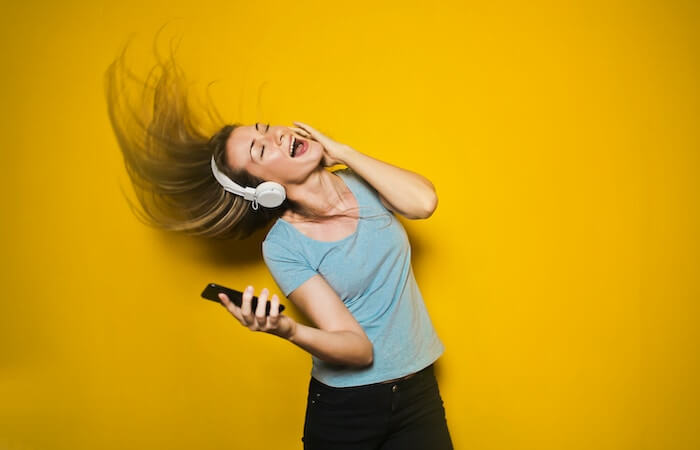 TikTok. You've probably seen its viral Facebook ads, heard about it from your kids, or seen it on the news. But what is it and should you be investing in TikTok marketing?!
In short, TikTok is a Chinese social network that puts video first. People can post short videos, edit them, add music, and post them to their TikTok followers.
Much of the site's content is ccomedic—kind of like Vine, Twitter's late video network. Some of the most popular genres include short skits, lip singing, cringe videos, and cooking instructables.
Like noted earlier, the network started in China as Music.ly. However, it was rebranded to TikTok last year and quickly gained traction in the United States and Australia.
TikTok is a relaxing spot of good in a sea of digital bad !
And when we say "gained traction", we mean it: it's estimated that over 500 million people use TikTok, meaning the network is larger than Twitter and Pinterest. Crazy.
With that in mind, TikTok is becoming a larger marketing platform—especially for brands that market to young people.
So in this article, we'll dive deep and show you who should market on TikTok and how to market on TikTok.
Sound good with you? Let's dive in.
TikTok has a very specific user demographic
Before you start marketing on TikTok, make sure your demographic aligns.
TikTok is largely used by people between the age of 16 and 24. This age group makes up 41% of the total user-base. Unfortunately, the social network hasn't released much beyond this, though it's safe to assume 24-30 makes up another large part of its audience.
So with that in mind, we recommend using TikTok for marketing if you have a young audience.
While there's no doubt that older people will start using the service soon, your marketing resources will likely be better spent elsewhere if targeting that audience.
Here's how to market on TikTok
You have two choices for marketing on TikTok: influencer marketing or original content.
Each of these have their own merits and time commitments, so we'll walk you through both options below. Here's a look:
Influencer marketing will be huge on TikTok
TikTok guidelines said not to promote posts by 'ugly' and poor users
From makeup to baking videos, TikTok is full of people making things. There are some huge TikTok influencers in these spaces—in fact, some have millions of subscribers.
These influencers have audiences that want to buy your products, so partner with them and make an influencer marketing campaign.
Pay these influencers to use your products on-camera or otherwise promote your brand in their videos, and you'll get your products in front of new eyes.
But een more importantly, you'll earn some of your influencer's trust too. One in three consumers trust an influencer's opinion more than what a brand says, so use that to your advantage.
Just be sure to keep these five things in mind when you make an influencer marketing campaign.
Dabble with original content (if you dare)
Making your own content can be a powerful TikTok marketing strategy. However, it will take lots of time, creativity, and resources.
TikTok is largely based on viral content, so your content needs to be viral too. Otherwise it will likely be ignored by TikTok users.
So if you're a cooking brand, show off an awesome recipe. For example, you can bake a cake to the tune of a pop song and show off your organic sugar in the process. Check the example above to see what we mean.
Just remember: the key to TikTok marketing is to make a viral, light hearted video that also promotes your products.
TikTok ads don't exist… yet
One of the downsides to TikTok is that it doesn't yet have an ad platform. So all of your TikTok marketing has to be done through influencer marketing.
TikTok App : More than 20% of social users will use TikTok !
But that's not necessarily a bad thing.
If the past of other social networks is any indication, TikTok will eventually introduce an ad platform to monetize.
So spend your TikTok marketing resources on partnering with TikTok influencers in your niche in the meantime.
Bottom Line for TikTok Marketing
And there you have it: how to market on TikTok. Use this information to decide on if you should market on TikTok and start your first campaign. Remember, it has a very specific demographic, so tread lightly.
But now we want to hear from you. What do you think about TikTok marketing?
Do you plan on starting a TikTok marketing campaign for your brand?
Let us know in the comments.
---
The Ultimate Guide to Snapchat Marketing in 2020
Did you ever give Snapchat Marketing a try?
There's a continually growing list of social media platforms that businesses should be using, and plenty of marketers agree that Snapchat is included on that list.
Though the interface can be a little clunky and hard to get used to, some businesses who are using Snapchat are having great results coming from their campaigns.
In this Snapchat guide, we're going to break down everything you need to know about marketing on Snapchat and getting results for your business.
Did I mention all the latest updates?
Yes, we have those too, and with a tutorial to get you started in a blink of an eye!
Because Snapchat is so different from the other major popular social media sites most marketers are using, however, it can feel intimidating—marketers are unsure how to use the platform, how to connect with their audience, and what types of content they should be using.
In the first section of the guide, we'll show you why you should market on the platform, great examples of success on Snapchat, the demographics of its users, recommended strategies and best practices, and an in-depth tutorial for using its features and tracking results.
In the 2019 update, we've added sections on whether or not Snapchat is still worth it (spoiler alert: yes!),
You can click here and go straight to the new content, or keep on reading and learn how to master the platform!
Ready? Let's get started.
Why Should Businesses Market on Snapchat?
Snapchat can officially be considered yet another platform that businesses and marketers can include in their marketing line-up; it's time, for some, to cue the collective sigh. While this can feel overwhelming for some businesses (there are already plenty of sites and platforms that we have to keep up with), it's always a good thing to have a platform that provides new opportunities and ways to connect with our target audience.
Snapchat has shown that it can be really valuable to businesses who have the audience there and the right strategies in place. Because numbers can speak for themselves, here are some statistics that show the potential value of marketing on Snapchat:
Snapchat has approximately 191 million daily active users (this number has grown from 100 million in the past three years).
There are more than 10 billion daily video views on Snapchat.
18% of social media users also use Snapchat.
Snapchat reaches 11% of the US's entire digital population. This might not seem like much, but when you consider how massive that population is, that's still a decent reach.
78% of 18-24 year-olds use Snapchat regularly. This is slightly above Instagram usage for this demographic, which comes in at 71%.
Snapchat has more users than Twitter, and grew as much in one year as Twitter did in four years total.
76% of Snapchat users also online shoppers.
Snapchat's daily users are spending an average of 30 minutes a day in the app.
Aside from the statistics, which can speak for the growth and engagement on the platform, there are some strong benefits to marketing on Snapchat. These include:
Less competition. Every brand that's ever existed seems to have a social media presence on Facebook, Twitter, and Instagram (and, increasingly, Pinterest). As difficult as it can be to even connect with users on these platforms, it can be even harder to get your content to stand out from the competition. Though Snapchat is increasing in popularity amongst brands quickly, there's still less competition here for businesses than on other platforms.
It's different. We've touched a bit on this in the intro, and we'll discuss it more later, but it's such a major benefit I wanted to mention it here, too. Snapchat is different than other platforms.You'll be reaching a new audience in a new way with a new type of content. This can definitely be a challenge, but it's also a big advantage. It's got a similar aesthetic to Instagram Stories, which was entirely modeled off of Snapchat, so similar content can be shared on both.
It feels authentic. Social media sites, in general are great for rapport building, and in some cases, giving the "behind the scenes" look to users.
Snapchat amplifies this facet of social media marketing; it's more about what's happening right now. Photos are edited with filters to make them more interesting as opposed to creating images of a higher quality, and the effects are purely there for enhancement (and fun).
You can show the personality of your brand in a new way on Snapchat, highlighting the parts that will be most relevant to your audience there.
You can reach a new audience. If your product has use cases that could appeal to a younger demographic but you aren't really connecting to them yet on other social media platforms, Snapchat could be your gold ticket in.
CNN, for example, connected with more Millenials on Snapchat than they had through their site; it was an audience they'd previously had some trouble connecting with.
Even if you're reaching the same audience, you're doing so on an additional platform.
It's free (aside from paid ad campaigns). This definitely isn't the most important aspect of marketing on Snapchat, but it doesn't hurt to note that it is, indeed, free. Some tools in marketing aren't, after all.Snapchat has seen increases in growth in the past few years, with user engagement and activity being plenty high enough to capture business's attention.Before you jump onto the platform and start running campaigns, however, you'll want to take a look at one thing: who is your audience on Snapchat?
Who's on Snapchat?It only makes sense to understand what demographics are most present on a platform before you start developing your marketing strategies, and Snapchat is no exception.Let's put it this way: if Millenials are included at all in your target audience, you should definitely be on Snapchat.
More than 60% of 13-34 year old in the US with smartphones use Snapchat
37% of users fall in the 8-24 year old category, with 71% of its users being under the age of 25.
The population is currently made up of 70% women and 30% men.
12% of 35-54 year old are currently using Snapchat, and only 2% of those 55 and older are on the platform.Snapchat currently has a younger audience, and though older audiences were increasing quickly several years ago when this guide was first written, that's a trend that hasn't continued so prevalently.If teens and college students aren't your target demographic, however, you could still get some use out of marketing on Snapchat—as long as your audience isn't purely in the 55+ age group.
Are there Any Businesses that Shouldn't Use Snapchat?
Since I've had some posts published about Snapchat (read: here and here), there's one question I've been asked a lot: are there any businesses that shouldn't use Snapchat?
While I'd never say that it would hurt a brand to use a social media platform unless some major marketing missteps are made (see my personal favorite– the McDonald's example), there are probably a few brands out there that might not have much success on Snapchat and could do better to focus their attention elsewhere. If your target demographic is purely middle-aged to older adults, for example, and a younger audience would have zero interest in your product, Snapchat may not be for your business.
That being said, it never hurts to try; the demographics could always change and expand, and you might be surprised how your content fits in with the new audience, or how engaged your audience is on the platform.
It's also important to note that you shouldn't be relying exclusively on Snapchat as a medium for social media marketing; it should be used in addition to other platforms. Use Facebook as your central hub, which allows customers to leave reviews, share images, and create UGC, and make sure that you're on Instagram too; both of these platforms have more features to help you better connect with your target audience in meaningful ways and they have larger and more diverse user bases.
The Elephant In the Room: Is Snapchat Still Worth It?
Here it is: the big question that everyone asks when I work on social strategies with them and we're choosing which platforms they want to use. Is Snapchat still worth it?
In the original version of those post, I had a prediction: that Facebook and Instagram and their combined empire would likely take down Snapchat eventually, but that it would take a really long time. I was sort of right, but not entirely.
Snapchat has not quite kept up with the rapid growth of other platforms like Facebook, Instagram, and Pinterest, which have all adapted and evolved a little more. The creation and popularity of Instagram Stories and then Facebook Stories didn't help Snapchat any, either, basically copying their best features and maybe even improving them a little bit.
Then a few celebrities threw a few punches, and the effects were immediately visible. In March of last year, Rhianna called for her fans to delete Snapchat after the company ran an ad asking if users would rather punch Chris Brown or slap Rhianna, and boom, stock slid by 5%. This was following Kylie Jenner's single tweetsaying she wasn't really a fan of Snapchat anymore after its redesign, and the company's value dropped by 1.5 billion immediately after.
Last year, Snapchat actually shrunk by 3 million users. They've since managed to claw their way up from 188 million daily active users to around 191, but that was a big hit. So the platform isn't doing quite as well as others out there, BUT it's so important to note that those numbers are still massive, and there's a lot of potential here to reach your target audience. We've already looked at the statistics, we know that the engaged audience that's stuck around is still loyal and enthusiastic. So yes, Snapchat is still definitely worth it if it's a good fit for your business.
Now that we've got that covered, let's take a look at how to actually market on this platform.
Snapchat Marketing: The Tutorial
Now that we've established who should market on Snapchat and why they should, we'll focus in on the how of Snapchat marketing.
In case you missed it, we published an in-depth tutorial that goes over how to set up your profile and send snaps and stories, which you can see here.
Since we've already released a guide going over the basics, this tutorial is going to focus on the more advanced features of Snapchat marketing, including features available to use, developing a marketing strategy, connecting with your audience and QR codes, and tracking the results of your marketing efforts.
Features Available on Snapchat
There are several different features, types of posts, and settings that can you can use, all of which can impact the success of your Snapchat campaigns. These include image editing options, the settings you can choose on your profile, and additional features that can help you interact and engage with your audience.