So you want to know how to go viral on Instagram.
Chances are you've seen the benefits viral content can have for brands. And you want that same success for your own business. But going viral can be hit and miss if you don't understand how it all works.
Therefore in this article, we'll share our tried and tested tips for going viral. Then you can enjoy the benefits that come with instant popularity.
ut first, what does going viral mean for Instagram accounts?
What Qualifies as Going Viral?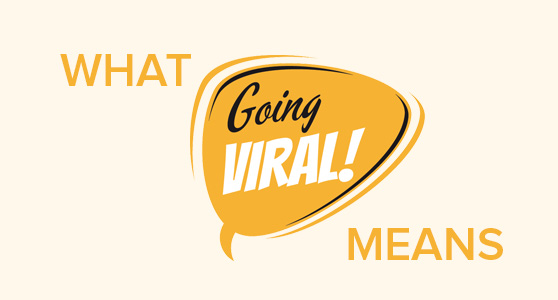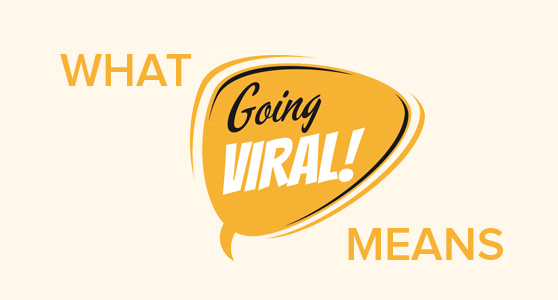 Going viral on Instagram means posting content that rapidly spreads through the platform and is shared quickly by thousands of Instagram users. While that's pretty easy to understand, how to actually "go viral" is a more difficult concept to grasp.
There aren't any benchmarks or thresholds for deciding when content achieves viral status. And there's a number of factors involved to consider including:
The number of shares a piece of content has
How many likes the post gathers
The number of unique users it's reached
How quickly the content is consumed
The amount of link clicks a post has
…and the overall lifetime of the content
As you can see it's complicated figuring out if your post on Instagram has gone viral. Usually, we know something is viral when we see it in our social feeds. So it's pretty relative.
But there is a general idea of how many hits you need to go viral.
How Many Hits Do You Need to Go Viral?
To go viral on Instagram you need at least 100,000+ likes and views along with thousands of comments even if your account only has a few hundred or thousand followers.
But achieving that benchmark isn't easy. You need so many other things working in your favor. Yet the key to it all is how much your followers engage with your content.
How Do Instagrams Go Viral?
The majority of Instagrams go viral through increased engagement. This means you have to do everything you can to encourage and boost engagement fast.
The idea is that a big push in engagement will force your post onto Instagram's Explore page, which makes it even easier for people to discover and view your posts.
Get That Fancy Blue Badge With Engaging Content and Good PR
12 Strategies to Help You Go Viral on Instagram
With these factors in mind, the following tips and tricks will help you achieve viral status on Instagram.
1. Understand Your Audience
Like with any content marketing strategy, getting to know your audience on Instagram is crucial to creating viral content. You need to know what makes your followers tick, what their interests are, and the type of content they interact with the most.
The easiest way to understand your audience is to create a buyer persona. A marketing or buyer persona clearly defines your ideal audience so you can quickly determine their interests.
Your persona should include the following details:
Age
Gender
Location
Occupation
Annual income
Education level
And specifically for Instagram, it's good practice to include the type of content they like to consume and the Instagram accounts they follow.
With this information in hand, you'll be better prepared to create the type of content that's relevant to your audience.
2. Create a Unique and Creative Voice
The best viral content on Instagram has a unique voice and a clear point of view. Combine this with stunning images and you'll have the ideal recipe for a viral Instagram post.
Andrew Knapp has perfected this with his modern take on "Where's Waldo". His feed focuses on his border collie in a fun game of "Find Momo".
Andrew takes followers along on Momo's journeys and uses the hashtag #momomeditations to describe Momo's thoughts for the trip.
With this kind of creativity, it's easy to see how his profile has taken Instagram by storm.
3. Develop a Striking Aesthetic
But creativity goes hand-in-hand with a unique aesthetic and theme for your posts. Striking images have the power to send your content to the top posts section. And getting there results in even more engagement with your content.
A good Instagram aesthetic has a consistent theme throughout all posts. You can achieve this by using the same set of filters, or photo backdrop.
Or you can take a leaf out of Ida Skivenes' book by building a look around the content of your images.
Ida uses her talent with food art to recreate popular scenes.
What really stands out about her feed is how she's created a consistent look throughout each and every Instagram post. And this is what has helped her achieve massive amounts of engagement.
Further Reading: 16 Instagram Story Giveaway Ideas (and how to Create One)
4. Like, Comment, and Engage With Other Content
While we're on the topic of engagement, it's vital you interact and engage with your Instagram followers. Instagram is a social network so the focus should be on being social.
Get involved by liking other posts. And leave thoughtful comments about why you enjoyed the content. But don't make the mistake of posting half-hearted comments and replies.
One word and one emoji comments are an indication of bot engagement. And this can drive people away from your account, rather than encouraging them to learn more.
So engage with your followers, but keep it relevant and thoughtful.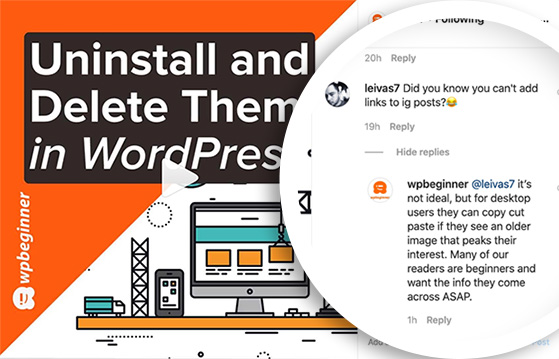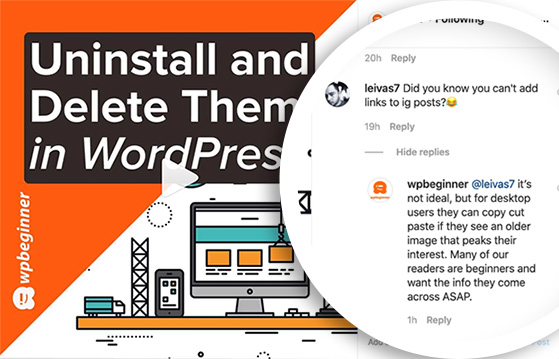 5. Review Your Competitors Posts (and Borrow Ideas)
One of the easiest ways to make your Instagram posts go viral is to study what other successful accounts do. There's no rule saying you can't borrow ideas and use them in your own content. What's working for them, might work for you also.
But don't copy and paste other people's work because you'll risk copyright infringement. Instead, make a list of the elements that get the most engagement.
Successful elements to jot down might be:
Clever use of images
Interesting post captions
How often they post to Instagram
Their posting times
The hashtags they use
Who they tag or mention
Their particular type of humor, etc.
You can then compare this list to the persona you created for your audience earlier. And use the elements that overlap with their interests and preferences.
6. Leverage Analytics to Learn What Works Best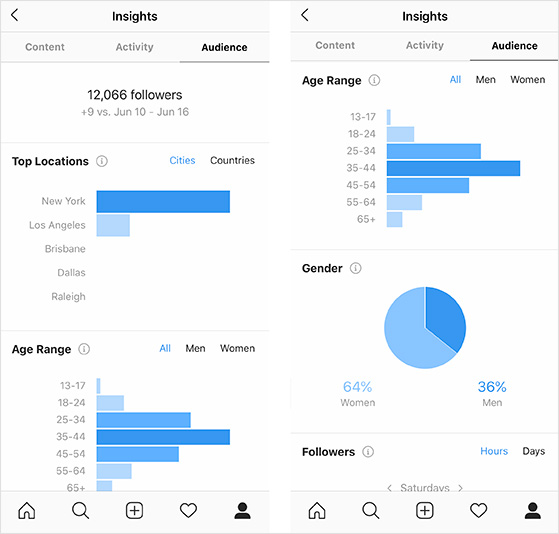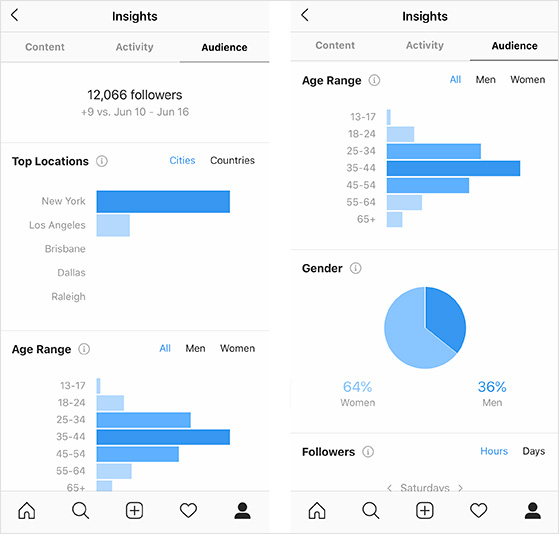 You can also look into your Instagram analytics to find out what content works best for your followers. Insights, as they're known on Instagram, provides detailed information on your follower demographics.
Take a quick look at the information you can learn:
Age range of followers
Follower gender
Follower locations
The times your followers are most active
How many likes you receive for a post
The number of comments each post gets
How many impressions a post receives
Here's an example of how you can use this data.
Let's say you published a post at 7 pm but got very little engagement. A quick glance at when your followers are most active might highlight that most of your followers don't use Instagram at that time. They're more active at around 9 pm.
So instead, you could experiment with posting around 9 pm with the hopes of reaching those people when they're active.
How to Buy Instagram Verification Badge ? Instagram Verified Check
7. Run Viral Instagram Contests
Another way to tap into the viral power of Instagram is to run a contest or giveaway. Running a contest is a great way to get the engagement boost you need to quickly go viral.
And if you use RafflePress to run a giveaway on Instagram, you can make use of the many actions designed to increase engagement on social media platforms.
Take a look at the ready-made template to grow your Instagram following for example.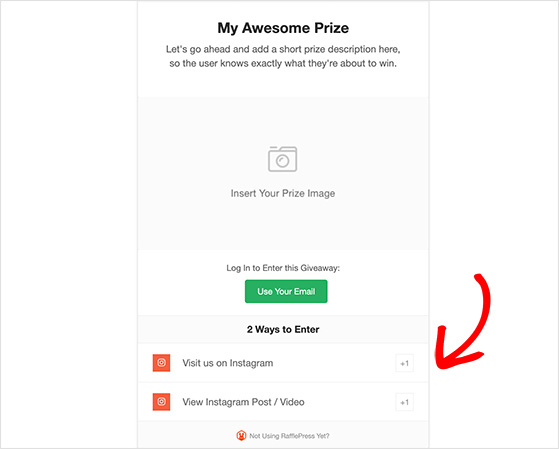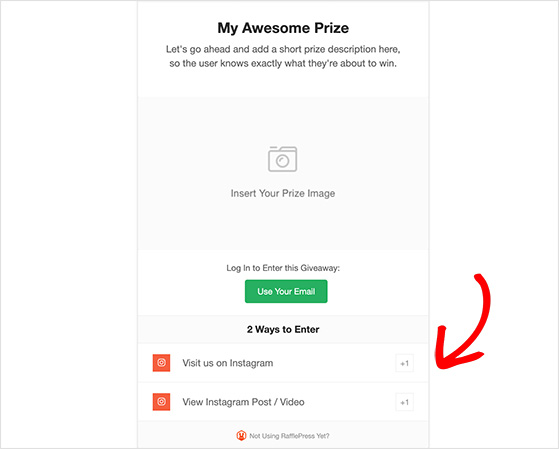 It comes with pre-built actions to increase engagement and visibility on Instagram.
And if you combine this with the viral refer-a-friend action and entry methods of your own, you can get your post in front of even more eyes.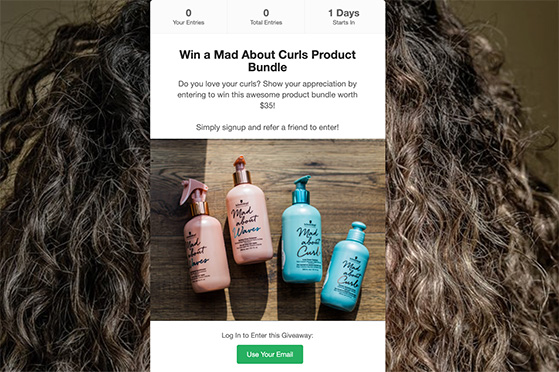 But let's not forget you also need a great prize for the lucky winner. The best prizes are items people desire, which encourages them to click and enter.
Here's a blog post of proven contest prize ideas to get you started.
8. Focus on Photos Over Videos
Videos are all the rage on social media so you might be tempted to use them excessively on Instagram. But truth is, photo content on Instagram gets 36% more engagement than video.
So if you want to create a piece of super viral content, you're likely better off sticking to images rather than video to get the best results.
9. Link Posts to Current Events
It's much easier to create viral content on Instagram if the topic is already trending in the news. Current events are at the top of peoples' minds, so posts relevant to those events will resonate more with your audience.
To take advantage of this, you could coincide your product launch with a current news event. Or even show real-world examples of your product being used in a way that's trending.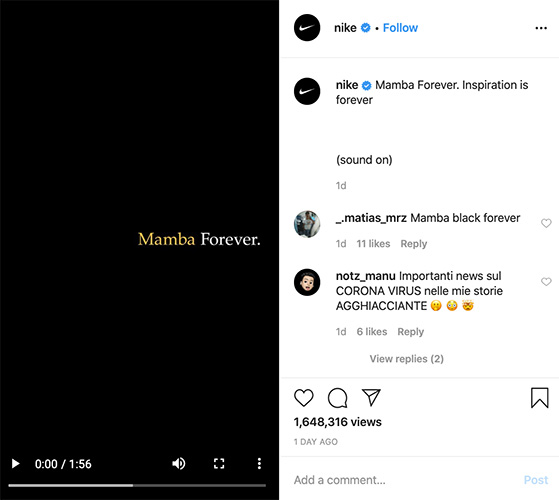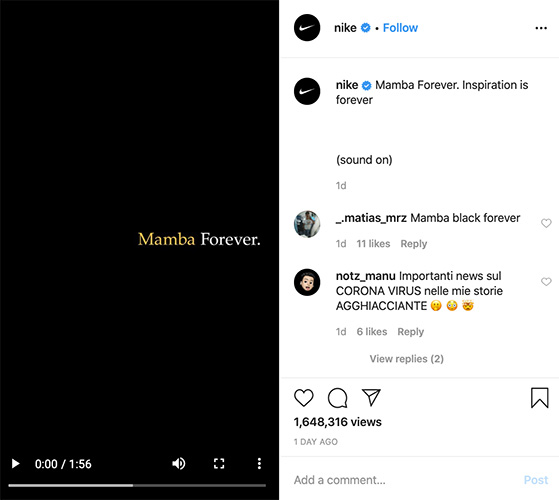 Nike, for example, created a video paying tribute to the many faces of Kobe Bryant in "Mamba Forever". The video generated over 1 million likes, resonating with millions of fans.
10. Partner With Influencers in Your Industry
Something else Nike does with great effect is partnering with influencers to market their brand.
By getting celebrities and influencers to use their products, they not only raise awareness but also cement themselves into their sphere of influence.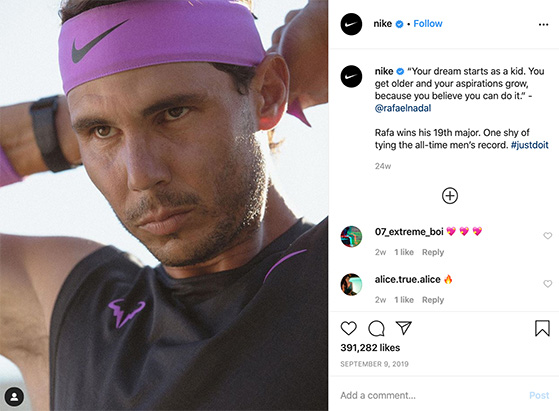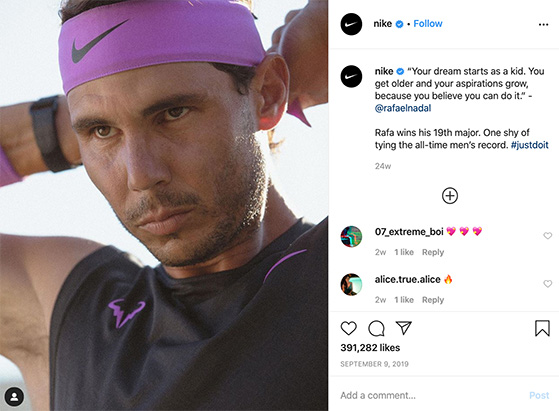 We totally get that you don't have Nike's marketing budget, but it's a good example of how you can work with influencers to drive interest to your Instagram account and hit viral status.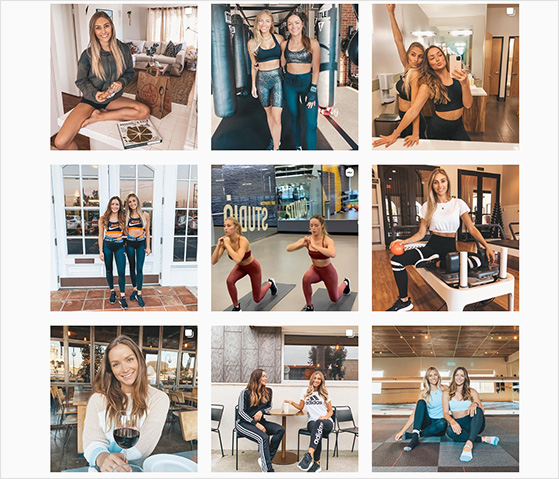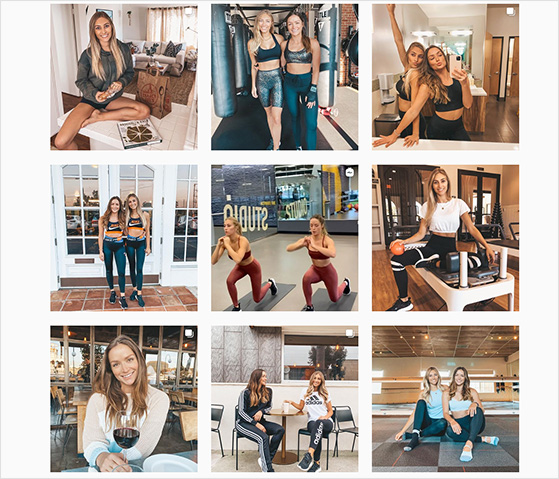 Take Sweat and Tell for example. This is a micro-influencer account that's formed a community of health-focused women. Their posts review workout classes and routines, raising the awareness of the brands they work with.
11. Boost Your Post Reach With Paid Ads
Social media marketing statistics show that over 2 million advertisers are active on Instagram. And that's because many brands understand that Instagram users are more likely to engage with sponsored content there than on any other platform.
Therefore if you're interested in creating viral Instagram content, you should consider paying to promote your posts and increase your reach.
Instagram Tools to Quarantine : Ways to Grow Your Instagram Followers
And this isn't just for the bigger brands either. Instagram accounts of all sizes do this to improve the chance of going viral.
But how much does it cost to go viral?
It doesn't cost much to go viral on Instagram. Most engagement methods are free to implement.
But if you're using paid ads, expect to pay an average of $0.50 – $1.00 per click. If your industry is a competitive one, such as beauty or fashion Instagram ad costs can reach up to $3.00 per click.
12. Create a Consistent Posting Schedule
Our final viral tip for Instagram is to ensure you have a consistent posting schedule. Planning and scheduling posts ahead of time, helps you manage what's going out, and when.
This means you can time the publishing of posts for when your followers are most active to maximize engagement. And it also prevents rushing out last-minute posts, so you can keep your content high quality.
Unlike Facebook, you can't directly schedule posts to Instagram. But there's a range of social media marketing tools available to help schedule your content outside of the platform.
And if you're wondering when the best time to post on Instagram is, we've got that covered below.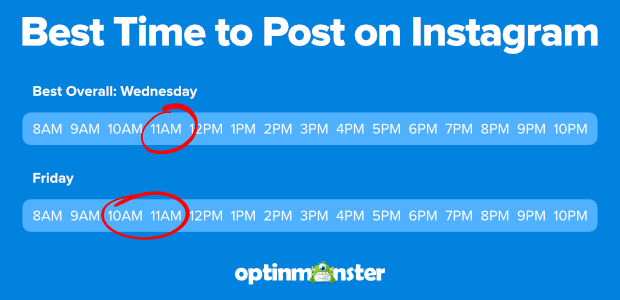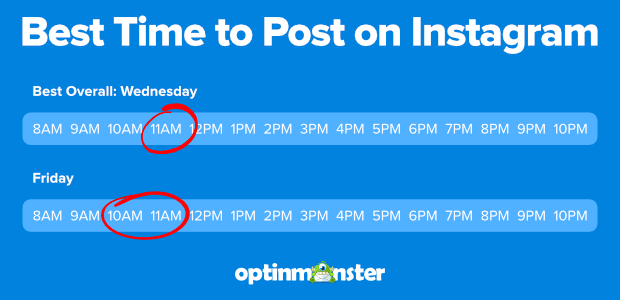 Wednesday is the best overall day to post on Instagram. Then you can break it down as follows:
Wednesday at 11 am and Friday at 10–11 am.
Tuesday through Thursday from 10 am–3 pm for the most consistent engagement.
And that's it!
Now you know how to go viral on Instagram by using the crucial ingredients detailed above. All that's left is for you to put it all together and create your own recipe for viral content success.
---
The Secret Formula to Creating A Viral Instagram Post
Instagram has 500 million monthly users. Videos and photos are shared on the platform 95 million times a day.
It's a steady-growth network that offers brands the perfect opportunity to build their audience and customer base.
It's a unique platform to maneuver, but the visibility you can gain from it is huge.
But even with all its users, you can't just post images blindly and wait for them to go viral.
You have to know what photos to post, when to upload them, and how to connect with other users on the network to gain more followers and likes.
It's as much an art as it is a science.
But we did live to tell about the methods that work to help you amp up your numbers and visibility.
Here's our formula for crafting a viral Instagram post that will appear on the "Top Posts" page.
Instagram Top Posts: What Are They, Exactly?
When you navigate to the "Explore" tab of Instagram and enter in any given hashtag, the "Top Posts" section will appear at the top.
It's a section of the nine posts with that hashtag, determined through an unknown algorithm used by Instagram. These posts were picked by Instagram to be featured.
Instagram verification : How to Get Verified badge on Instagram ?
While there isn't a tried-and-true formula for getting on this page, there are some general rules you can follow to increase your chances.
And, luckily, you don't have to have a huge account to get a viral post, either.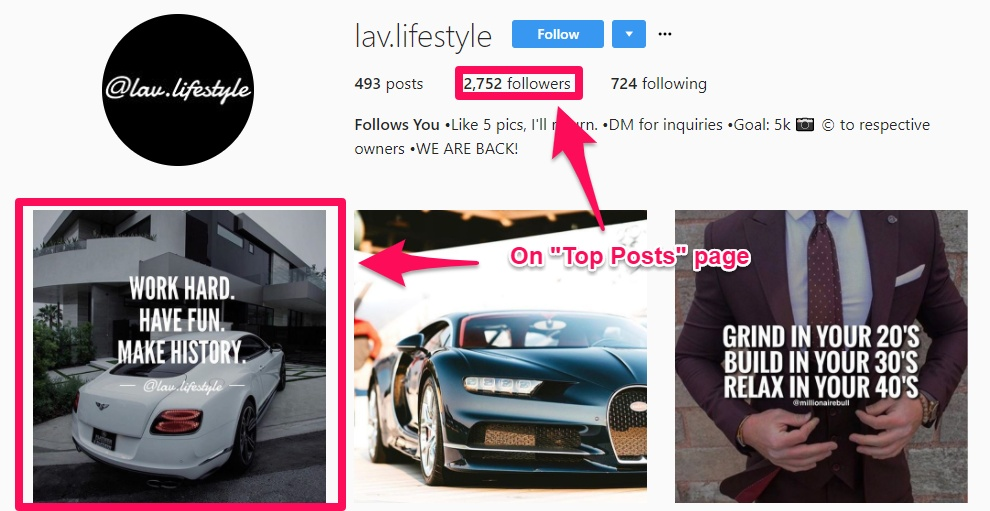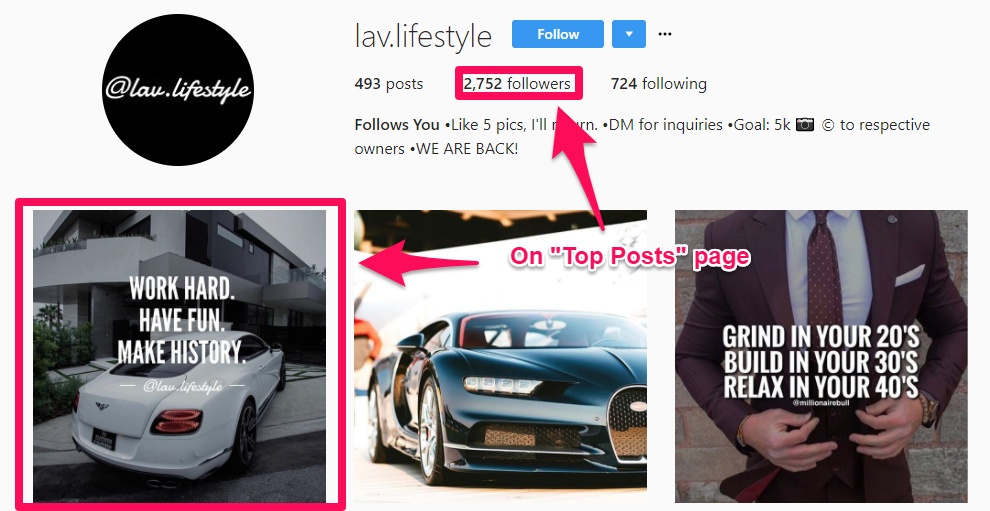 The larger the hashtag, the more quickly the trending posts are refreshed. But for smaller hashtags, you may be able to remain trending for a day or two (or more)!
But before you can start posting, the first step is making sure your account is completely filled out.
Leave Nothing Blank
This might seem obvious, but you need to be sure your profile is complete.
You want to appear as legitimate as possible. That means filling out that dreaded "About Me" section, too.
And make sure to add a link in your bio to your website. Here's how we do it:
You should also link your Instagram account to your Facebook account.
Decide whether you want to link your Instagram to a personal or business Facebook, or create a page with the sole purpose of showcasing Instagram activity.
It's up to you, but if you've already got connections on your business Facebook page, it's probably wise to link your Instagram there for maximum exposure.
It's a good idea to make sure all your images follow a similar theme, too.
Find Your Voice/Theme
Keep your demographic in mind when you're crafting images or videos to post on Instagram.
Anyone who visits your page will have an instant impression of your brand's identity, so you have to present yourself exactly how you want to be perceived.
And low-quality photos won't cut it. You want to appear professional, so be sure to showcase high-resolution images, like these from Noisy Water Winery.


Plus, since Instagram users are probably viewing your account from a mobile phone, any flawed or dark images will look even worse on their screens.
You don't have to be a Photoshop genius to have nice images, though. You can easily create some high-quality images using a tool like Canva.



Content on your page should be specific to your voice. Be unique and showcase your perspective in your industry, and your audience will appreciate your authenticity.
Try to make the posts in your feed somewhat match, so there's a similar feel to each of your images. Here's how we do it on our page.
Your images don't necessarily have to be original, either, as long as you add something to the conversation and give credit where credit is due.
Post quotes or even news stories on popular industry topics and add your own commentary to spark a dialog with those who see the post.
Try to steer clear of red, though.
Photos with a ton of the color red are psychologically proven to stop a viewer from scrolling.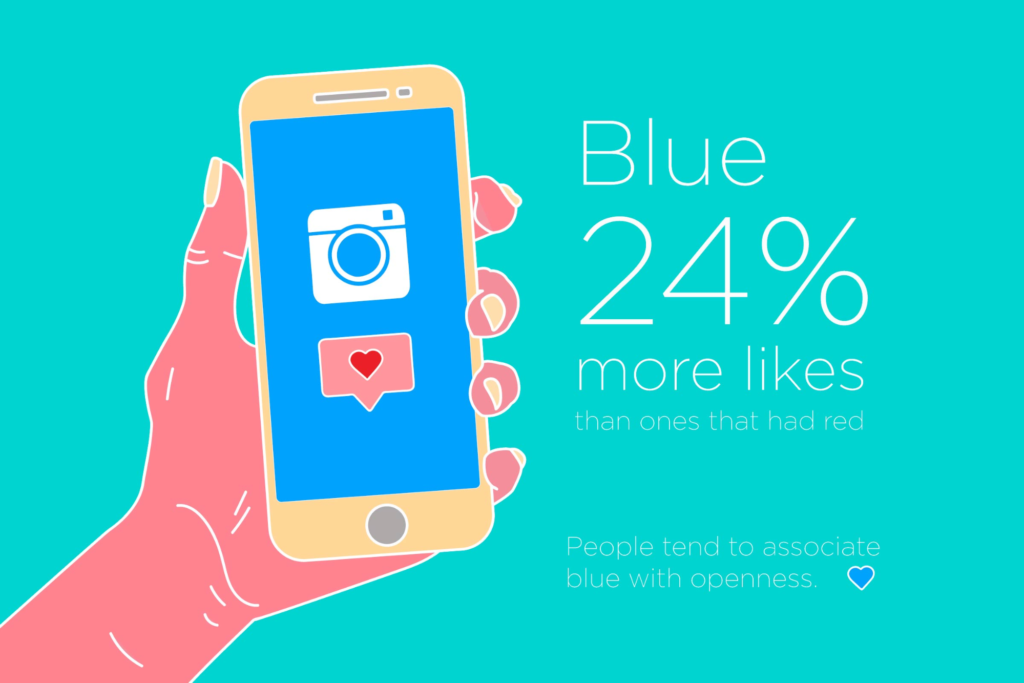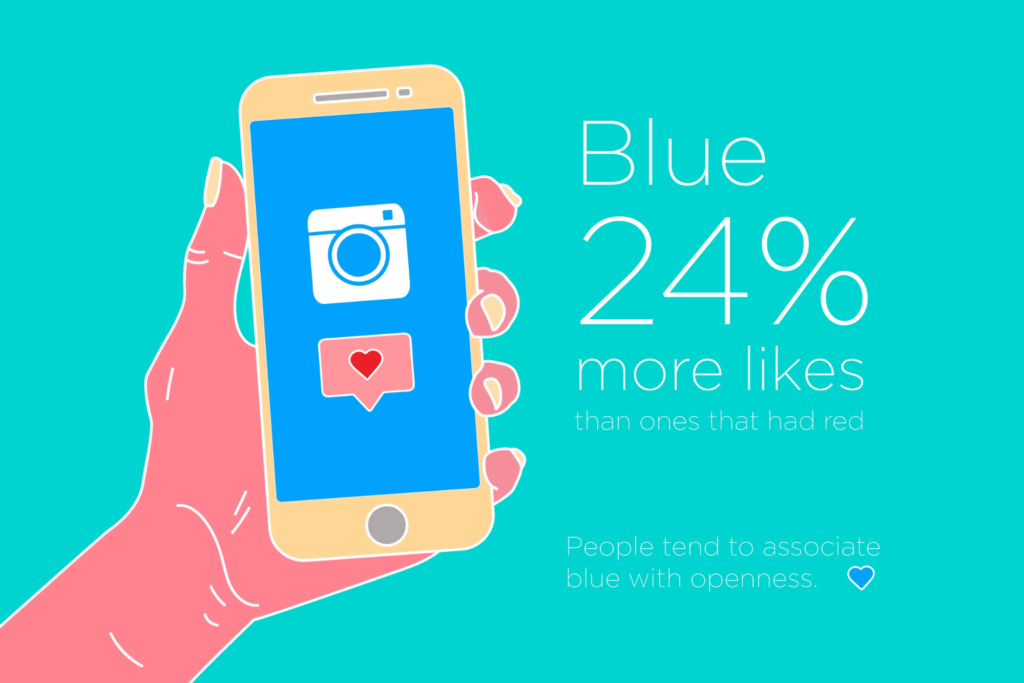 Blue images, however, get 24% more likes than red ones. So keep that in mind when crafting a theme: more blue, less red.
This will get people's attention and increase your chances of going viral.
Tags are another great way to connect with people and get exposure on Instagram.
Use Tags
There are countless accounts in each industry trying to gather a community of people to pay attention to their content.
A tag will separate you from the rest. Here's ours:
A tag lets you open yourself up to user-submitted photos and an entire world of followers that you might not reach without it.
The more tags, the better. Photos with more tags have been proven to get more likes.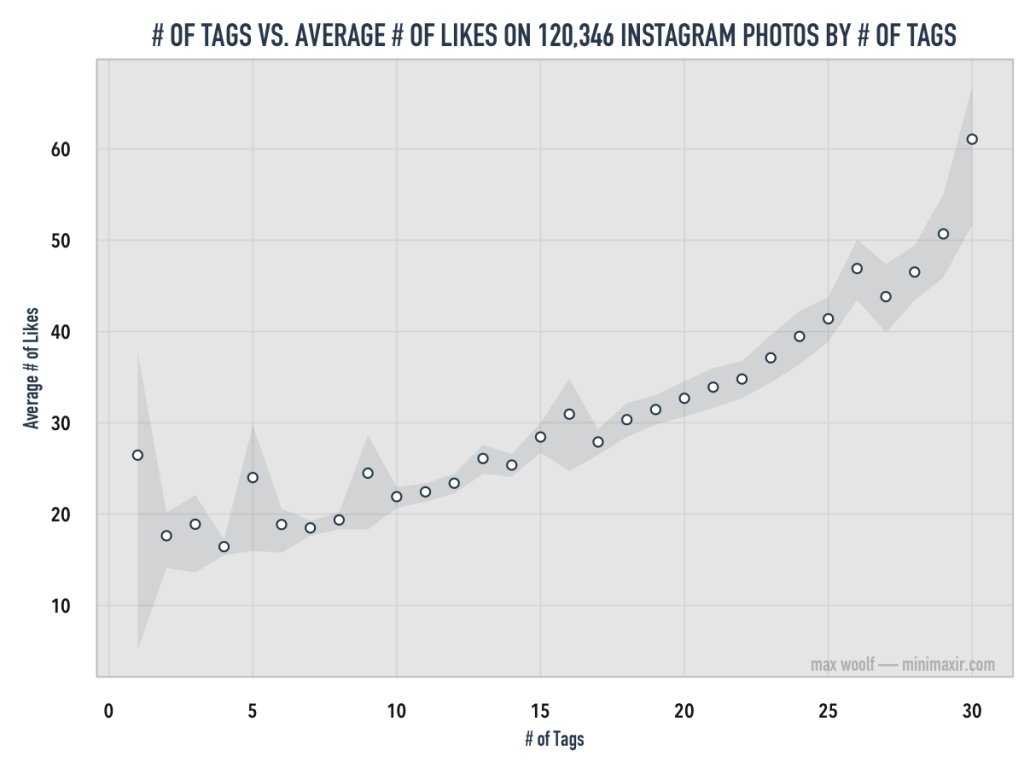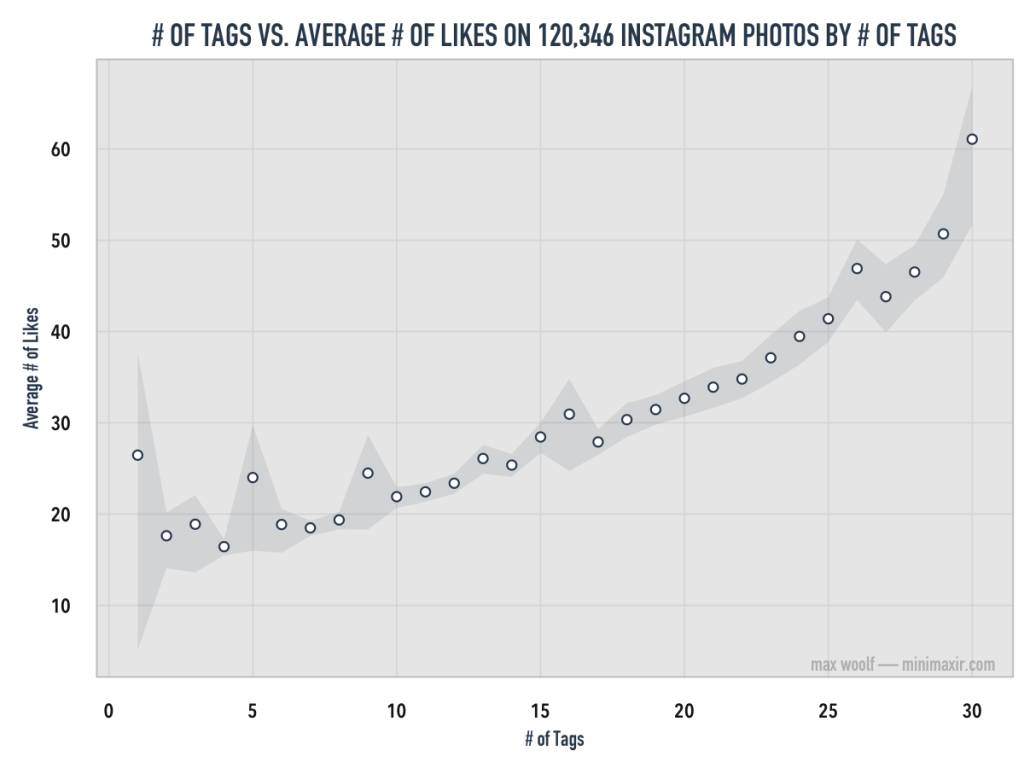 Location tagging is also important because your images will show up when people search for that area.
Here's what a location tag looks like: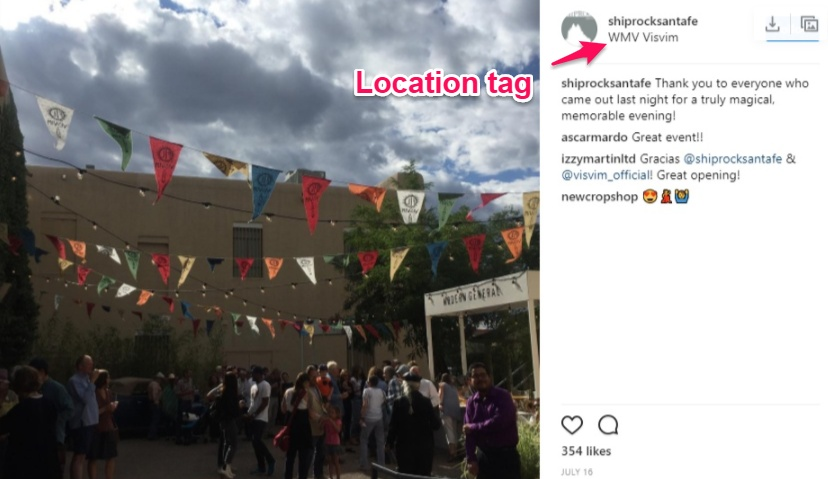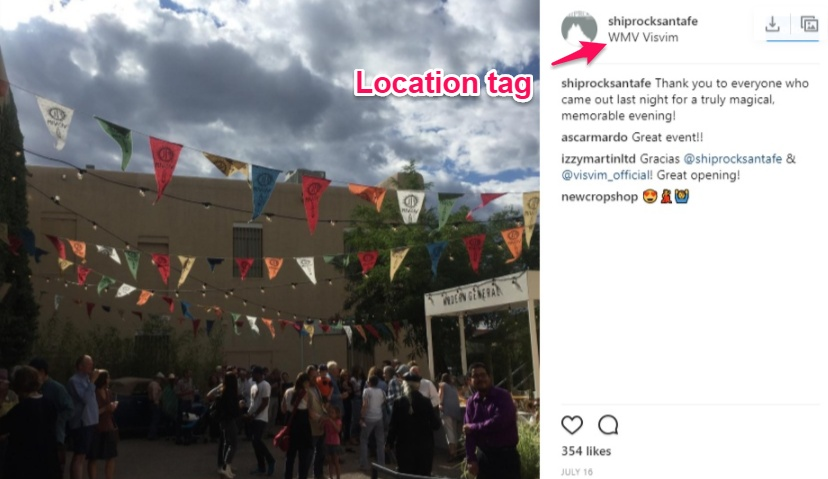 Besides tags, you should also be focused on using emojis in your Instagram captions.
Use Emojis
Everyone uses emojis.
But did you know they can actually help you go viral?
Humans process images 60,000 times faster than they process text. Emojis are the way to go if you want to convey a feeling or emotion quickly.
If you want your post to get more attention, simply add in a few emojis. The heart emoji tends to get the most engagement.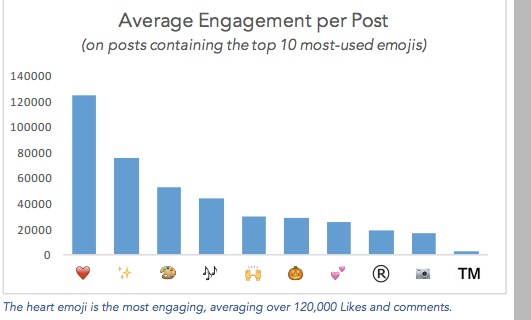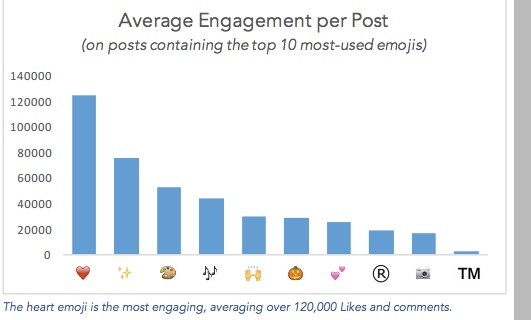 It's best to have a good understanding of exactly what each emoji means, first.
If you're just starting out with emoticons, HubSpot's Emoji Guide is the perfect place to start learning.
You don't want to use an emoji that conveys the wrong message, after all.
Now, let's move onto the section you've probably been waiting for: ads.
Ads
Instagram ads appear like any other regular post on the platform.
There are a few ad options, but they're pretty similar to each other overall. And they are a lot less complicated than ads on other platforms, like Facebook.
Plus, audience targeting is a lot easier.
For example, you can post photos of differing dimensions if you want your post to be larger or smaller.
Since Instagram is designed for mobile users, you should keep screen size in mind when crafting ads.
Ads on Instagram might not be the best place to drive sales. And since your overall goal is to go viral, it's best to focus on the "top of the funnel," here.
Instead, focus on branding, views, clicks to your site, and more. The rest will follow once the users find you and join your Instagram journey.
And that's the entire reason you're trying to go viral, right?
In addition to the regular old photo ad, Instagram also has carousel ads available, pictured above.
These are perfect for product demos that require several photos to tell the full story.
There are two other kinds of ads on Instagram:
Video
Stories
We'll talk more about stories next.
If you're already a pro at advertising on Facebook, just use interest-based targeting when running ads on Instagram.
Or, run ads against custom audiences full of email subscribers, past customers, and more to re-engage visitors.
But you can never be sure which kind of ad is the best one to meet your goals or go viral.
For that, you'll want to run a few tests before you spend a ton of money on Instgram ads.
Compare and contrast how certain ads perform with engagement tracking in Socialinsight.io.
With this feature, you'll see how many people engaged with your posts on any given day.
InstaStories are incredibly powerful if you use them right, so we're going to hone in on those next.
InstaStories
InstaStories are perfect for attracting attention to your page, which increases your overall chance of having viral posts.
People will see your account at the very top of their feed and be more likely to go to your page and click like on a photo.
This is a great place to show your wit and sense of humor. But InstaStories aren't the only place for funny posts.
You can put them right on your page.
Stone Brewing Company, for example, is known for witty and unique posts like this one:
I don't know about you, but this is the kind of feel-good content we like to see on Instagram.
But once you get the content down, make sure you're posting at the right times.
Create a Posting Schedule
Much like scheduling posts on other social platforms, you should schedule posts on Instagram to see the best results.
Scheduling lets you post when your audience is online and most active. That means your chances of going viral with a post during those times is much higher.
With engagement analytics in the Socialinsight.io platform, you can determine when those times are.
Look at your posting times and then check out the engagement and interaction data. Which times gathered the best likes or comments on posts?
This is when you should be uploading to Instagram.
Then, once you know your optimal post times, schedule posts out in the Socialinsight.io tool to go live at those times and days.
This can be a lot of work, though. Something that also helps you go viral is to get featured by an account with a bigger following.
Get Instagram Followers : Use these 22 proven tips to attract more followers.
Find Influencers and Interact With Others
Instagram is full of accounts with followings of all different sizes.
Accounts with a gigantic following can influence their followers to like another brand's post or follow their account with just one repost.
If you've taken a photo that is worthy of sharing, get it out there to a larger account.
Some accounts will feature your post if you add their hashtag or tag them. Find a list of these accounts here.
The account you try to connect with doesn't have to have millions of followers, either. In fact, if it doesn't, there won't be as many accounts trying to compete for their attention.
Accounts such as @thepeoplescreatives have their own hashtags that people can add to photos to get discovered.
Just add #peoplescreatives to your photo and they'll see it – and potentially "regram" your image.
Building relationships with other accounts in this way is almost guaranteed to get your post attention.
And finding influencers and brand advocates doesn't have to be full of guesswork.
The Socialinsight.io Follower Insights feature makes it simple to identify and contact users who already know you and your brand.
Here's how you can take the first step and actually collaborate with another account.
Shout Them Out
Once you've done your research and identified which accounts you can exchange content with, send them a direct message.
Ask them to credit your account for the image that you want to go viral. It's also not out of the question to ask them to direct their following to check out your page and follow you.
Propose that you will do the same for them with a photo of their choice.
If you're just starting out, it's commonplace to provide your photos for free.
But the exposure has unlimited value and increases your chances of a viral post by an immeasurable amount.
Run Contests
An Instagram contest is a fail-proof way to gain followers and increase engagement.
Nikon even created an entire Instagram account dedicated to their 2016-2017 Nikon Photo Contest.
Be sure to spend time setting it up and monitoring the contest, though, to make sure it's successful and participants are happy.
The overall goal here should be to increase engagement and attract attention to your post (and your brand).
Here are some quick tips to keep in mind when running a contest on Instagram:
Your contest must have rules
The entry must be simple (ask users to like your post or follow your page)
Run contests regularly to increase the chances of going viral often
Include a prize
Use a contest specific hashtag. It's a good idea to use a branded one.
Don't forget to create an eye-catching graphic to share the contest, and be sure to follow up with those who entered after it ends to thank them for their participation.
Conclusion
Instagram is the perfect platform for going viral and growing your brand.
But you have to know how to use it in a way that other accounts will love.
We didn't gain our Instagram following in a day, but Rome wasn't built in a day either.
With the help of our tools and a few hacks, you'll have a viral Instagram post on your hands in no time. To be featured on the "Top Posts" page, be sure that your Instagram profile is completely
filled out so that people know you're legit.
Post images that are in line with your brand's theme and use tags and emojis to increase your chances of visibility.
Promote an image as an ad so that it will go viral more quickly, and only upload when your users are active. Schedule posts in advance with our scheduling tool.
Find influencers to share your content and offer to share theirs, too.
And don't forget to run contests on your posts so that everyone will share your image with their friends.