Look, no matter how many thought leaders opine that it's a vanity metric, we all care about increasing our Twitter followers.
And for good reason.
A respectable follower ratio is fundamental to your brand's credibility and authority—not to mention organic reach on Twitter's timeline. Basically, your entire Twitter marketing strategy exists in a symbiotic chokehold with this number. Which is why everyone wants fast shortcuts to get more Twitter followers.
But despite the tantalizing whispers of cash-for-follower glory, there's no shirking the elbow grease. We advocate building up your presence the old-fashioned way: by providing value. Of course, there are some fast wins, too.
Here, we've compiled a checklist—from easiest to most complex—of every minor and major move that will help you on the path to the high-quality Twitter audience your brand deserves.
1. Pin your best tweet at the top of your page
You can link to your latest promotion, or your best (read: most popular) work. Whatever it is, it should be high-quality enough that people are willing to follow you to stay informed and get more.
2. Perfect your bio
Twitter bios are indexed by search engines, so this may well be people's first point of contact with you. Here are some examples of best-in-class Twitter bios to get you on the right path.
3. Have a human face
Literally. If your brand is small enough (i.e., less than a handful of employees), use a human face in your profile picture. If you're too large for that, and are using a logo, ensure your content calendar includes humanizing images. Think of these folks as characters in your story: founder, staff, star social media managers, et cetera.
How to Get Verified on Twitter?
4. Add a location to your Twitter bio
Especially if your brand is geographically constrained to a particular neighborhood or city. You might be surprised at how engaged local influencers are. Whether they're journalists, small businesses or local celebrities, you definitely want these people on board.
5. Get verified
While Twitter originally intended the blue checkmark to be a safeguard against confusion and bad behavior, it's become a de facto status symbol. (Note that as of early 2019, the verification process is on hiatus, but keep checking back!)
6. Leverage your other feeds
Encourage your fans on other platforms to follow you on Twitter. Interlink all your social profiles, in fact, so that your audience can pick and choose according to their own preferred channel.
7. Include your Twitter handle in your email signature
Even better: your employees' email signatures. Really, all outgoing communications—newsletters, whitepapers, business cards, take-out menus—should include mention of your Twitter profile.
8. When in Doubt, Tweet More Often
Versus the likes of Facebook or Instagram, Twitter requires a more aggressive content strategy.
According to data by CoSchedule, the "sweet spot" is anywhere between three and seven tweets per day to maximize engagement. Some brands tweet as often as 15 or 20 times per day, though, so context and competitive analysis are important here.
But given how quickly the platform moves, brands can always err on the side of posting more often rather than being reserved.
The key is to not only promote yourself. The good news? The possibilities for filling up your content calendar are seemingly endless.
Tweets from your followers. Relevant industry articles. Buzzworthy stats. Breaking news. Personal updates. The list goes on and on.
With shoppers of all ages wanting and needing less, marketers need to understand consumers' desire for authenticity and it's impact on their strategies. via: @wwd https://t.co/NFXADCrfuh

— Sprout Social (@SproutSocial) January 20, 2018
Filling up your Twitter feed with fresh content lets potential followers know that you're active, engaging, and well, worth following.
With the help of social scheduling software, you can regularly queue up content without having to constantly tweet in real-time. This effectively allows you to attract new followers around the clock.
9. Time Your Tweets to Perfection
And speaking of timing, blasting your tweets while your target audience is sleeping won't help you gain new followers.
According to Sprout's own research on the best times to post on social media, brands typically see the most engagement during weekdays in the early and late afternoons.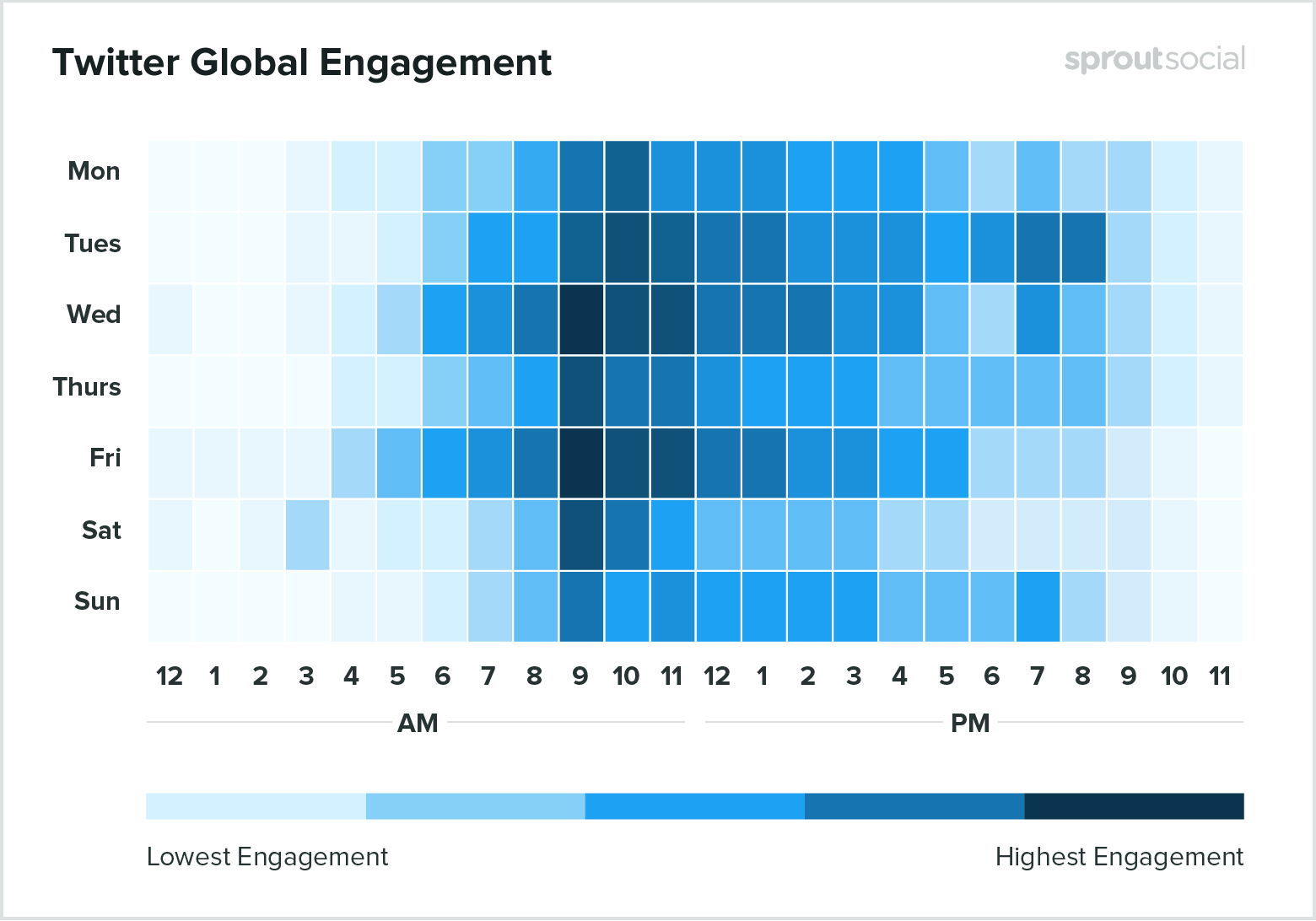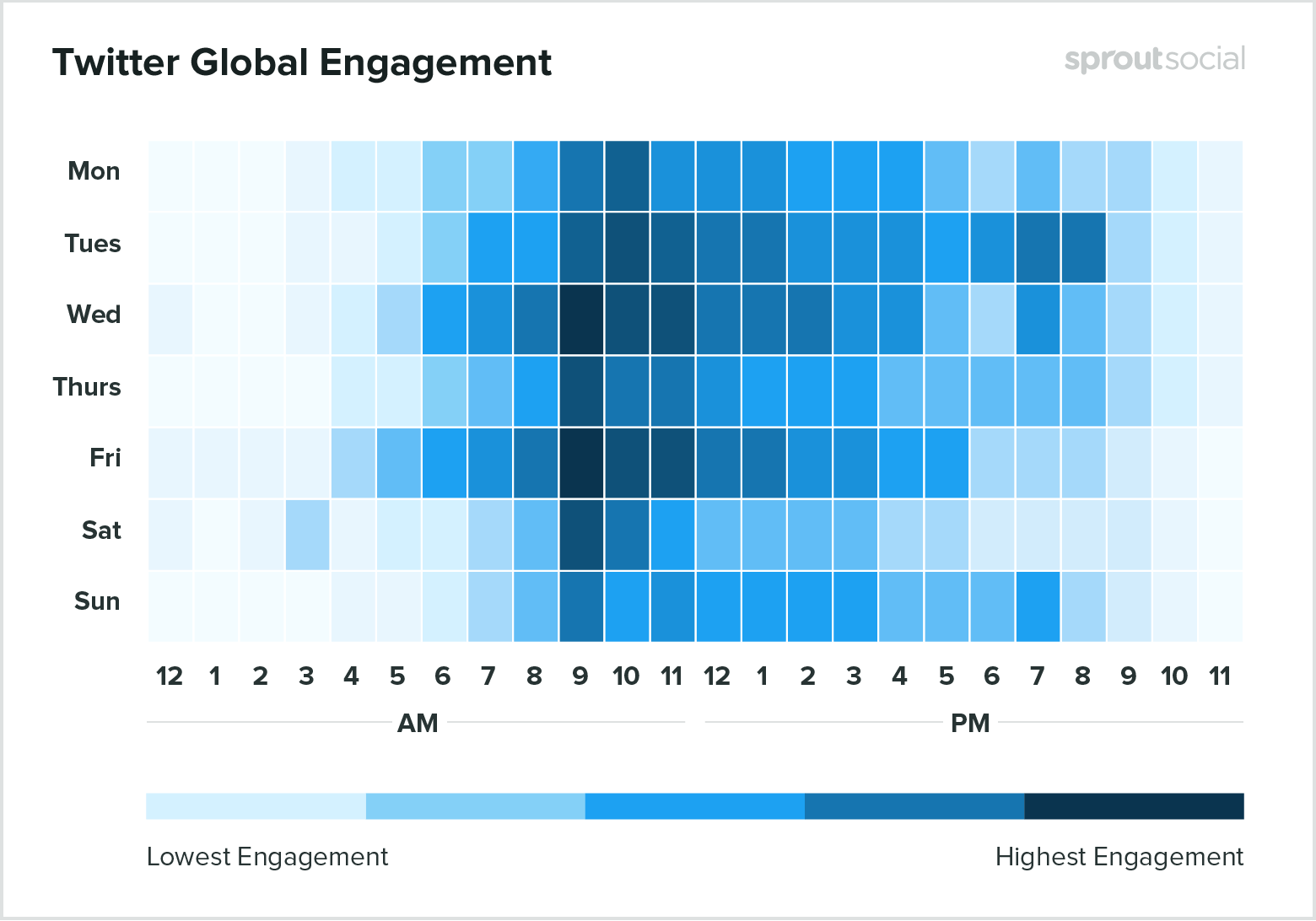 While these numbers might vary depending on your time zone and audience, timing your tweets can help your account gain some much-needed exposure.
Figuring out how to get more Twitter followers doesn't mean sitting in front of the screen for nine hours a day, either. Ideally, brands should schedule tweets to hit the times where users are more active and tweet in real-time at intervals throughout the day as well.
10. Post More Visual Content
As you probably know, tweets containing visual content receive more likes, shares and retweets than those without them.
As such, brands should strive to couple their tweets with some sort of accompanying image. Although there's nothing inherently wrong with solely text-based tweets, images are better poised to stop serial scrollers and encourage them to take a look at your post.
Even something as simple as a colorful blog post preview like this one from Slack can do the trick:
Free up time to tackle those big, hairy, audacious goals with these tips for streamlining your team's workflows in Slack. https://t.co/ZN1Xu463xK

— Slack (@SlackHQ) January 10, 2018
Coupling your tweets with GIFs or memes has become common practice, as illustrated by Beardbrand:
Believe it or not, Olive Oil is not great for moisturizing your beard or hair. You're not cooking food, so don't cover your face with it. pic.twitter.com/t2PbWU4VbK

— Beardbrand (@beardbrand) January 18, 2018
Meanwhile, infographics are shared three times more often than any other type of image on Twitter. If you've got some compelling data to share with the world, go for it. Here's a great example from Forbes:
These countries are the most optimistic about 2018 https://t.co/QJkhhLZjp4 pic.twitter.com/YjiYxuoOKO

— Forbes (@Forbes) January 22, 2018
And signaling the strength of video content marketing, this medium is six times more likely to be shared than a typical text-based tweet. Quick-how-to's and listicle videos like this one from Hubspot are all the rage right now:
Interested in Management? Here are things to know before diving in. pic.twitter.com/VIhmxZJMfi

— HubSpot (@HubSpot) January 12, 2018
Whether you're looking to inform or entertain your audience (or both), filling your feed with visual content can help bring new followers into the fold.
Twitter Fast Tracks Verification : Twitter is rushing to verify health experts
11. Harness Your Hashtags
Think of hashtags as a way to make your posts searchable, almost as a form of SEO for your Twitter account.
According to data and best practices on how to use hashtags, tweets with at least one hashtag receive 12.6% more engagement than those without them.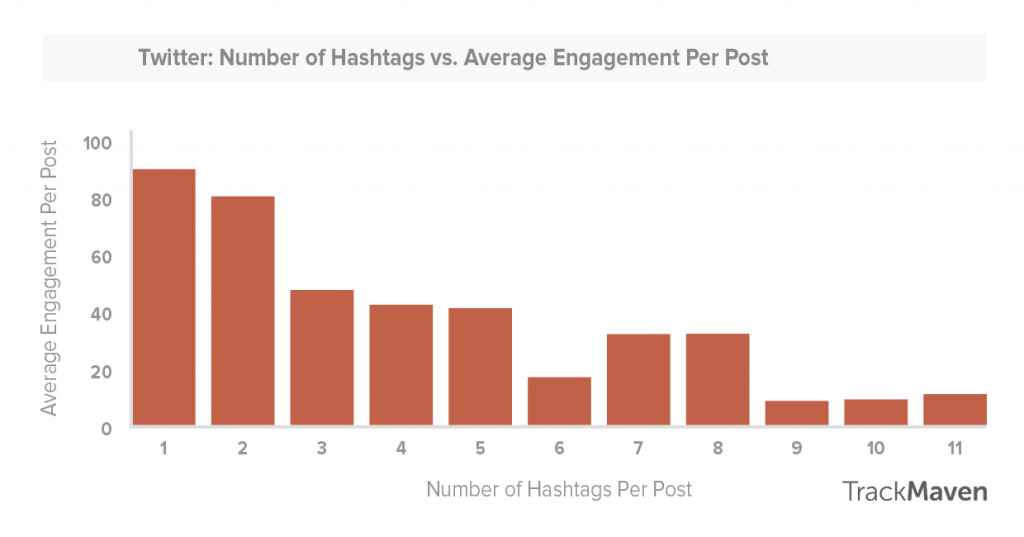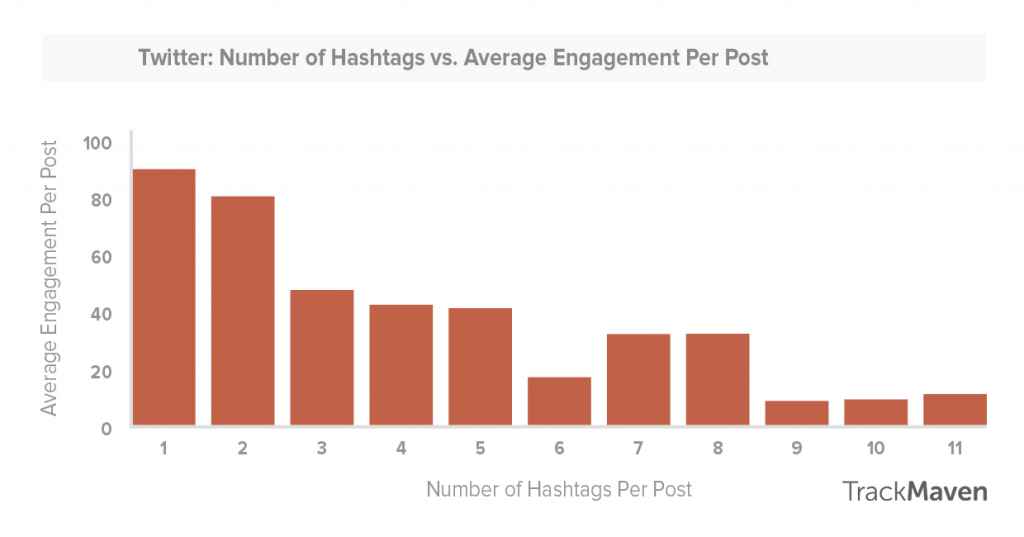 Tacking on a couple of hashtags to any given tweet is a quick way to increase the likelihood of new followers finding your account. Plus, doing so only takes a couple of seconds and there are plenty of hashtags to choose from.
For example, you can use industry hashtags such as #SEO or #contentmarketing which are ideal for your professional content. Here's a good example of an effective single hashtag tweet:
#Contentmarketing helped @timjtopham take his side-hustle full-time! Find his strategy over on @CoSchedule: https://t.co/0Racbkzdm3 pic.twitter.com/813rt2FTmq

— Elise Dopson (@elisedopson) January 22, 2018
And here's an example of a tweet containing two industry hashtags which don't distract from the content of the post:
Three tips for a #ContentMarketing plan that makes your customers the central focus https://t.co/WrweCQGsgV by Ann Smarty @Seosmarty #marketing pic.twitter.com/YYNrmyfCpD

— Search Engine Watch (@sewatch) January 22, 2018
To inject some personality into your feed and to avoid sounding too suit-and-tie, you can also play with popular community hashtags such as #MondayMotivation:
"Hope is like the sun. If you only believe in it when you can see it, you'll never make it through the night." #MondayMotivation from General Leia Organa. pic.twitter.com/R43KyHBCKY

— Jedi Counsel Podcast (@Jedi_Counsel) January 22, 2018
Additionally, you can piggyback on event-based hashtags as well (think: hashtags awards shows, sporting events and anything else topical):
#CESblackout pic.twitter.com/JsR9VEun63

— OREO Cookie (@Oreo) January 10, 2018
The only caveat with hashtags is that you don't want to go overboard. Posts brimming with hashtags look spammy at a glance and are otherwise distracting.
And besides, spamming isn't necessary when you know which of your hashtags attract the most followers. By taking advantage of Twitter analytics, you can dig deeper into the top-performing tags for your particular brand.
12. Informers vs. Meformers
The key to getting 2x more followers: Share less about yourself
Are you an informer or a meformer?
Researchers at Rutgers University found that only 20 percent of us are informers on social media, while the other 80 percent are meformers. What exactly is a meformer?
Meformers — Users who post social media updates mostly relating to themselves
Informers — Users who post updates that are mostly information-sharing
The Rutgers team ended up creating the term "meformer" after analyzing data from a sampling of Twitter accounts. Their analysis, based on patterns of usage along with tweet and follower data, found a clear divide between those who share information and those who share about themselves.
And how does this relate to get twitter followers?
Informers had more than two times the followers of meformers.
It would seem that sharing information on social media is better for your follower count than sharing about yourself.
How can you tell which cluster you fall into—informer or meformer? The research study included an interesting breakdown of the classification of tweets. Researchers rated a sample of tweets and assigned a category to each. Overall, there were nine major categories that were used for classification. Do you recognize some of your tweets in the following examples?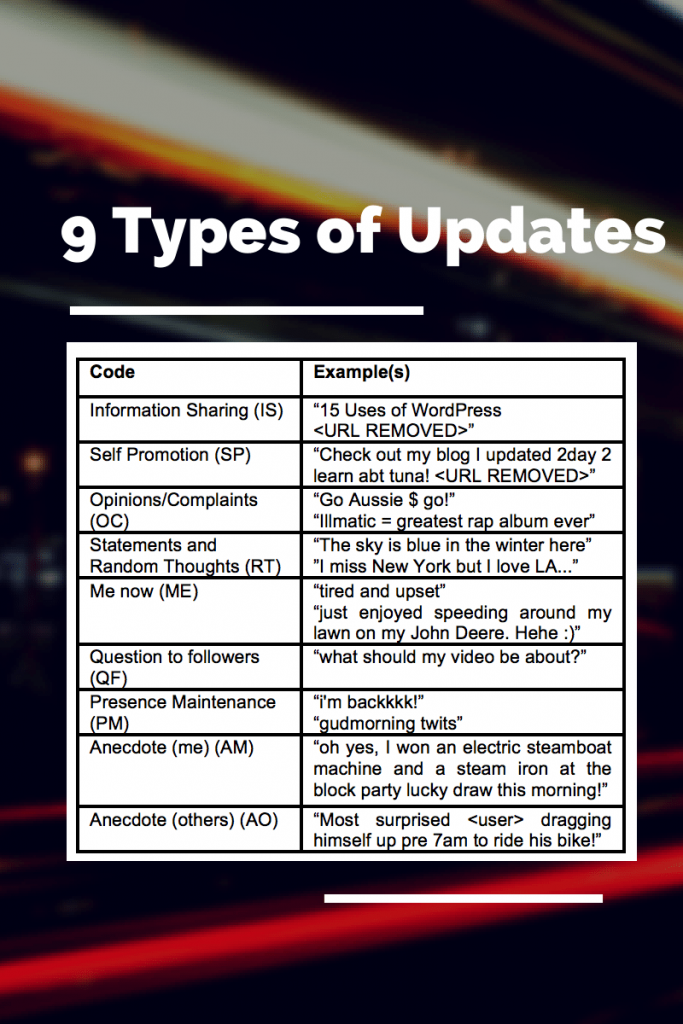 According to the study, 53 percent of the tweets from informers fell into the Information Sharing category, whereas 48 percent of the meformers' tweets were Me Now.
Takeaway
Aim to boost your information sharing on social media so that you more closely align with the informer cluster rather than the meformer cluster.
how to get followers on twitter fast ? increase twitter followers : Easy Ways
13. Call yourself an authority
Gurus, authors, and experts get a bump of 100+ more followers
Roy Povarchik has an interesting idea about how to get twitter followers. It's called Twitter Greatness, and it goes something like this:
The real quick way to get a bunch of people following you: Be Barack Obama. Or Katy Perry. Or Joel Gascoigne.
What do folks like these have in common? Fame, yes. But they are also creators and doers and leaders. The act of creating is what sets them apart. Povarchik went so far as to create a helpful pyramid to display the hierarchy of greatness on Twitter. You can apply this pyramid to most other social networks, too, with a few tweaks (e.g., reporting is greater on Twitter than other networks).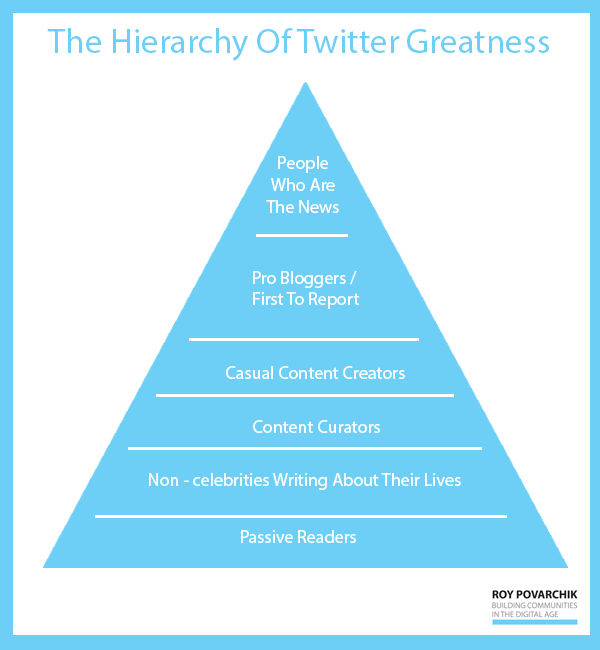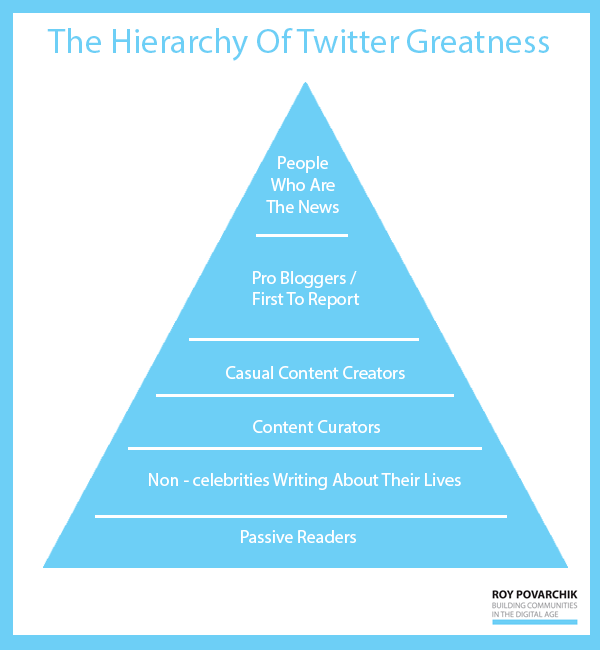 Do you see yourself somewhere on this pyramid?
Of course, this interesting idea of greatness is made all the more powerful with some stats to back it up. Hubspot data scientist Dan Zarella researched the effect of authority in a Twitter bio. Have you heard variations on the theme of "don't call yourself a guru"? Zarella found this to be false. Self-professed gurus have an average of 100 more followers than a typical Twitter user.
And it's not just "guru." Many different types of authoritative titles can help boost your follower count.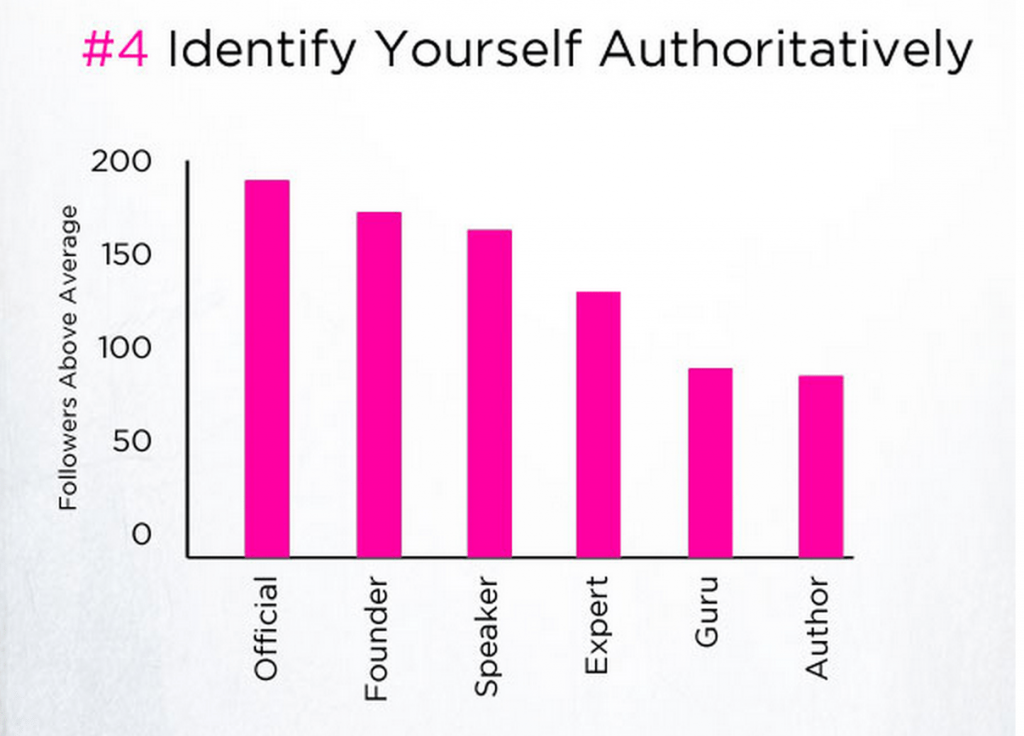 Takeaway
Create amazing things and be a leader in your industry. Then don't forget to mention it in your bio. Terms like author, expert, founder, and official can be powerful assets to growing your followers.
14. Avoid bursts of updates
Social scheduling is the #1 fix to retain the followers you have
You could also approach the question of getting more followers from the other side: Part of having lots of followers is knowing how to keep them.
There was an interesting study by a group of Korean researchers into the how and why of unfollowing. They looked at 1.2 million Twitter accounts and analyzed 51 days' worth of tweets and interactions. Through analysis and interviews, they found that the following factors came into play with unfollowing:
Leaving too many updates within a short time
Posting about uninteresting topics
Sharing the mundane details of one's life
The interview portion of the research study revealed the concept of "Bursts"—too many updates all at once. More than half of unfollows come as a result of bursts. (Hey, that's pretty much why we created Buffer! If you're losing followers because of burst, let us help—try Buffer for free!)
There are other factors at play here, too, and many of them are areas that could ring true for marketers or brands. Do any of these types of tweets hit home for you?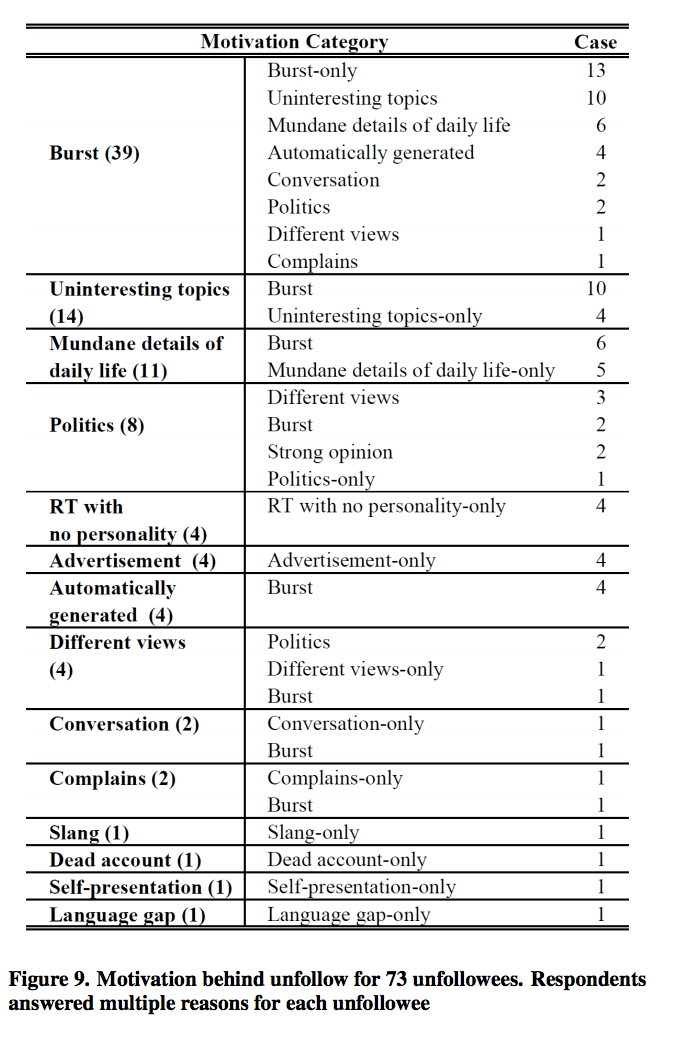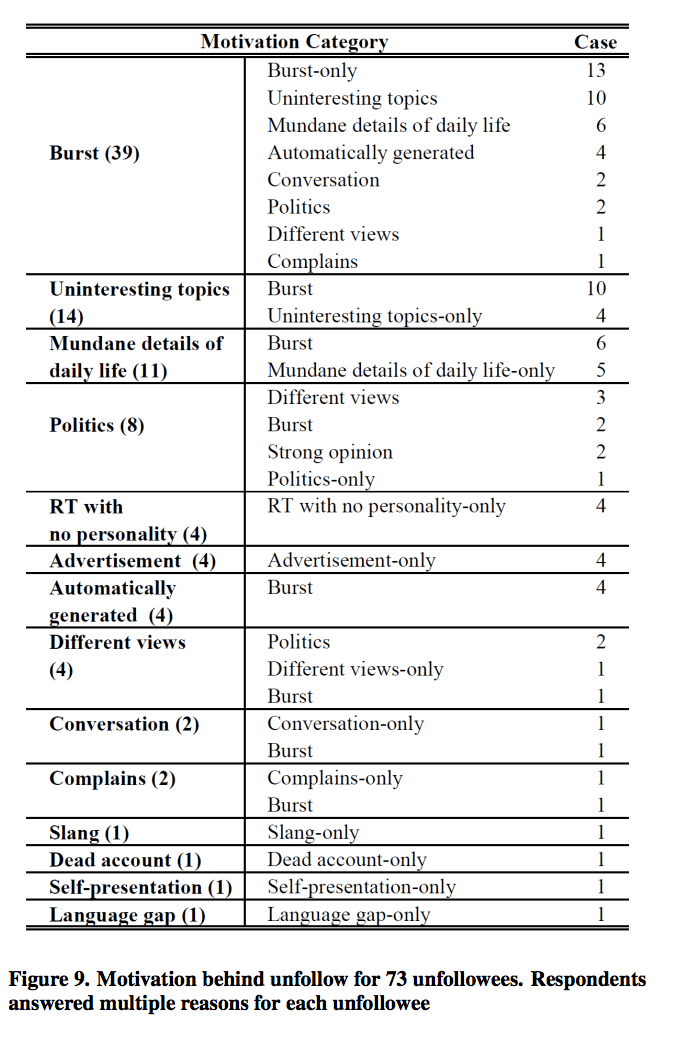 Takeaway
To get a lot of followers, minimize the number of those who unfollow you. Avoid bursts by sending your updates with a scheduler like Buffer. And keep in mind other types of updates to avoid—politics, mundane topics, lack of personality, etc.
15. Give the people what they want
52% of followers want special offers
If you are a brand looking for more followers on social media, it'll help to know what your followers are after. Nielsen research conducted a study for Twitter UK back in March, revealing the top ten reasons why people follow brands.
55% follow because they like the brand.
52% follow for special offers or promotions.
51% follow to stay up to date with news from the brand.
Among the top 10 reasons, one of the biggest themes was discounts. Reasons for following included special offers or promotions, freebies, and exclusive content. Interesting, the fact that a brand posts entertaining and useful content the seventh-most popular reason for following a brand. This would seem to indicate that there's more to being followed than good content marketing.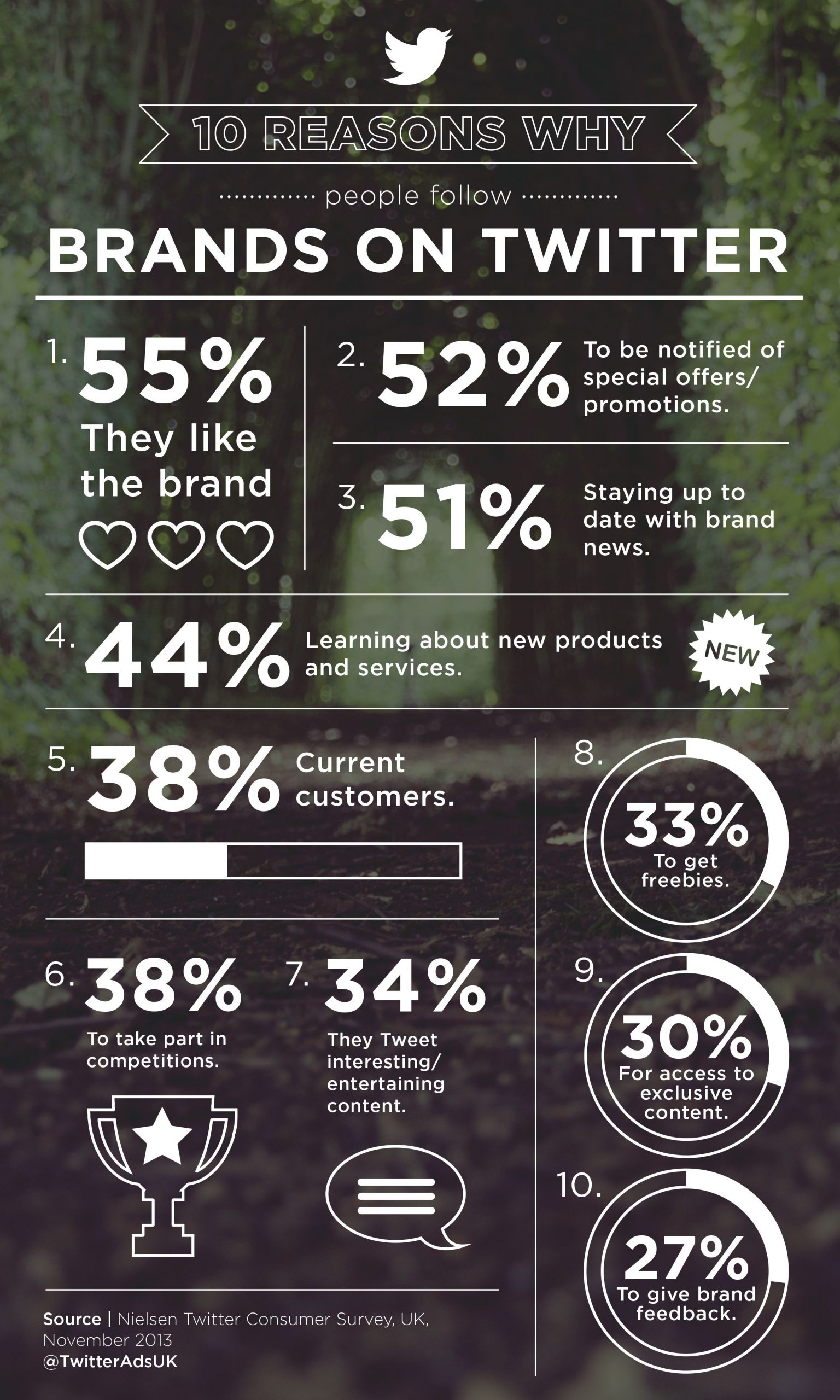 Takeaway
Give things away. Twitter users love discounts and freebies, and they are likely to follow a brand to get some goods. If you can add value in this way—along with your content strategy and branding—you might see your followers grow.
What strategies do you have for growing your followers?
We've touched on a lot of tips here for growing followers: Informers vs. Meformers, authority, bursts, freebies, frequency, and happiness. Hopefully one (or more) will be key to getting your follower count growing!
I'd love to hear from you about what has worked in the past for growing your follower base. Any tips you'd like to share? Any tactics you're itching to try out?