Instagram Live Video is the most attractive part of Instagram. You can connect with your friends and followers in the moment.
Instagram Live Video
Instagram Live has a series of steps that you should learn. Today  we have prepared a comprehensive tutorial for you. If you are eager to learn, you can learn zero to 100 of Instagram Live Video with us.
After reading this article, you will be an expert in this field. So let's talk about Live feature on Instagram. This feature is popular among users, especially Instagram celebrities. Bloggers, for example, usually set a time and talk to their fans via Live. Many people present their educational content in live.
What are the uses of Instagram Live Video?
How you use this feature depends on the type of activity you do on Instagram. For example, if you are a business owner, you can use it for introducing a new product or you can record live videos from behind the scenes. This leads to a warm and intimate relationship with the audience.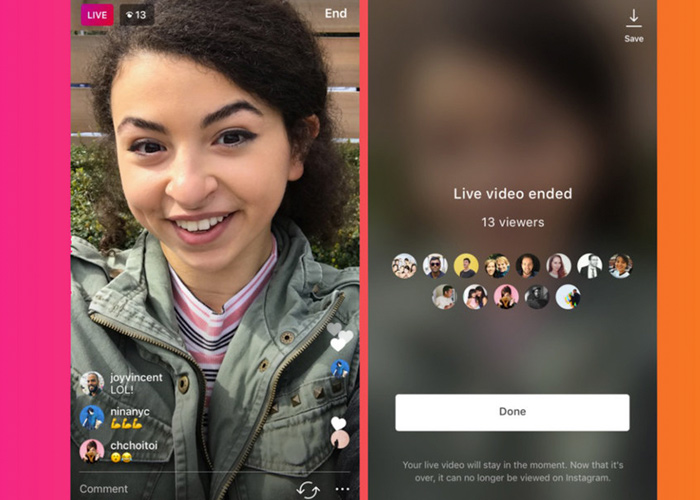 How to share a live video on Instagram
Touch the icon at the top left of the Instagram home screen or swipe right from the feed to open the camera, select "Live" and tap the "Start Live Video" button. Another way to access this page is to touch the + sign on your profile picture.
Also read:
How to Make Money on Instagram ?
1. Select the Live option at the bottom of the page and then touch Start live Video (if you do not have this option, it means that live stories are not activated for you).
2. The number of viewers who watch your Live Stream is displayed at the top of the page and the comments sent are displayed at the bottom of the page.
Select the comment option to post a comment. Touch and hold the comment to make it easier for viewers to see, then you can pin it at the top of the page.
You can also see the people who are currently viewing your live.
Be careful, you do not need to inform your friends about the live story because Instagram will automatically send a message to your followers (push notification).
To prevent viewers from commenting on your Live, select the setting icon at the top right, then click Turn Off Commenting.
3. When your live stream is over, click the End option at the top right of the page. Then you can confirm the end of the live (Confirm option). Moreover, you can save your Instagram Live Video in your Camera Roll by selecting the Save option (top right of the page).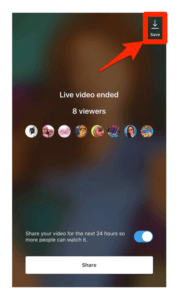 How to tell when other Instagrammers are live?
When someone you follow starts a live video, you will see their profile picture with colored circles next to the word Live at the top of the feed. Your Instagram Live video appear before stories at the top of the news feed (first circle on the left).
To start watching a live video, just touch that colored circle. When you are watching Instagram Live, you can send your comment by selecting the Comment option. By touching the heart icon you can also like the live video playing.
Note that the person who shared the live video and all the people who are watching can see your comments as well as your entry and exit.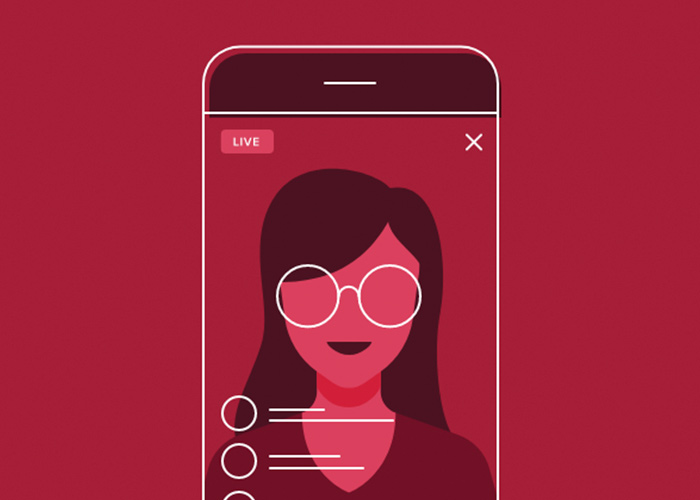 If you find a comment inappropriate, you can tap on it and select Report Comment. If the person who is sharing a Live Video has turned off commenting, then you are not able to send your comments. So you can send him a direct message and express your comments there.
How To Turn Off Instagram Live Notifications?
If you do not want to be notified when a friend starts a live stream, go to your page and select the setting icon at the top right. Then go to Push Notifications Settings and set the Live Video option to Off.
Two-Person Instagram Live Video
One of the new features of Instagram is a live video with a friend. There are two ways to make a two-person live video:
1. You can invite a friend to join your Instagram Live.
2. You can also ask a friend to accept your request.
Invite someone to Instagram Live
Touch the camera icon at the top left of the Instagram home screen, or swipe from right to left to display the Instagram story page.
Select the Live option at the bottom of the screen and then touch Start live Video.
Select the icon with 2 faces.
Select the name of the person with whom you want to have a two-person live stream. Note that you can only invite people who are watching your live.
If your request is accepted, the live video of you and the person you invited will be displayed on a shared split-screen. You will also be notified if your request is denied.
You can remove the person you invited by touching the X option in the right corner of your shared live.
Request and join a friend's live on Instagram
If you see the Request option on the person's live Instagram, touch it.
Then send the request.
If your request is accepted, you will be notified to join the live video.
also read :
How to hide hashtags from Instagram posts and stories?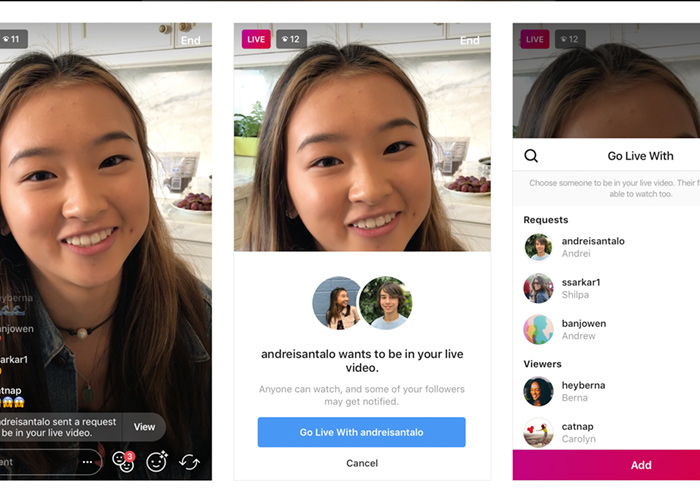 How to send a Live Video in Direct Message?
You can send both your live stories and the live videos you watch to your friends. To do this, follow these steps:
Select the Direct message Icons in the bottom right corner of the Instagram Live stream.
Then select the name of the person for whom you want to direct Instagram Live.
If you want to share the live video with only one person on Direct, select Send Separately, and if you want to send it to one of the groups you have on Instagram Direct, select Send to a Group.
The person or persons you selected will be notified when the live video starts and ends.
How to download Instagram Live videos?
As mentioned, Instagram does not save your live videos and will not allow you to watch them again; So how do we download Instagram Live? The answer is simple! You can use one of the screen recording apps.
For users of Android phones, this is easily possible, but users who have an iPhone or iPad can not use such applications (Apple does not allow such for security reasons) and they must connect their iPhone or iPad to MacBook to be able to Save Instagram Live.
Az Screen Recorder is one of the best programs available for Android users.
How to replay Live Instagram videos?
You can enable the live video playback option so that the audience who could not watch the live video can watch the video 24 hours after the live broadcast. You can also highlight your live like Instagram story.
To share the live, touch the Share option at the bottom of the page when the live video is finished.
The total number of viewers of the live story includes both the viewers of the live video and its replay.

How to watch Instagram live after the broadcast ends?
If "shared a live video replay" is enabled, when you open your Instagram page, this live video is visible at the top of the page and in the colored circles with the word Play written on it.
While watching live, you can swipe the video forward or backward by tapping right or left of the screen.
What is Top Live?
Instagram live videos that are playing publicly.
When you go to the Explorer section, an option called Top Live will appear at the top of the screen, by selecting it you can access live videos streaming. You can watch different live videos by swiping the page left and right.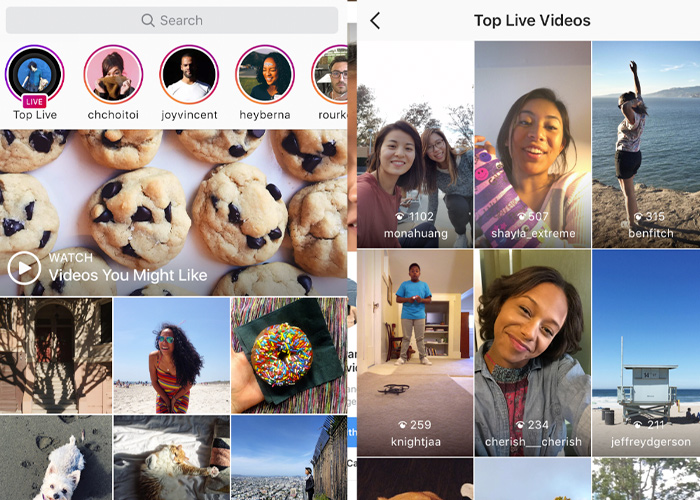 How to watch Instagram live on PC?
Unfortunately, we are not currently able to view Instagram Live through the web version of Instagram. So we can not normally see live Instagram with a computer, but there is a special trick to do so.
Just install the free version of Google Chrome on your computer and then go to Instagram (Instagram.com) and enjoy watching stories and live videos.
Why don't I have Instagram live even though I updated?
The Instagram live feature is not enabled on older phones or older versions of Android, and if you have an OS (BlackBerry) or Windows operating system, you may have trouble viewing live stories and Instagram stories in general.
Some IOS users may also need VPN to be able to watch Instagram Live. We hope that all these problems will be solved with the release of new Instagram updates.
Note that in order to watch or broadcast live, your internet speed must be high, otherwise your live video will be of poor quality or may be interrupted while you are watching.
Also read:
How to Get on the Instagram Explore Page ? 12 best tips
Conclusion
These days, Instagram Live Videos are very popular among Instagram users (especially people who have a lot of followers). It has also become a good tool to earn money on Instagram.
Instagram live is one of the video marketing methods and with a little creativity you can use it to grow your business and attract customers.
Be very careful when publishing a live video because the audience is watching you live and there is no room for an error. Also, if the comment is open, you must accept the risk of receiving rude comments that are displayed to all your live viewers.
also read :
Buy Instagram Followers and Increase Real Followers on Instagram