More American adults use Facebook than any other social media platform. But the bigger Facebook get (almost 2.3 billion monthly active users) the more brands struggle to earn attention. Here's Everything you need to know about running a Facebook contest. Learn the rules and get tips and ideas for your next campaign.
Facebook Contest
A Facebook contest is a GREAT way to build your audience and drive traffic to your fan page.
It is an essential strategy for your Facebook Marketing.
It's also a fantastic way to build your email list while also keeping your Facebook fans engaged with your brand. In fact, contests definitely increase your Facebook engagement.
Running a contest is an inexpensive (and sometimes even easy) way to achieve measurable results for your Facebook marketing goals.
Facebook Contest guidelines
Please note: Facebook contest changes their rules and guidelines periodically, so be sure to check out their guidelines for promotions before running any of your Facebook contest ideas.
Currently promotions that are not allowed include, asking fans to:
Tag their friends as part of the contest
Share the contest on their timeline in order to enter
Share the contest on their friends' timelines in order to enter
Additionally, all contests should have clearly stated rules, eligibility requirements and should be in compliance with any regulations that might affect the contest or prize (I'm taking this to mean, don't do anything against the law!).
Finally, your contest should ask entrants to release Facebook from any liability. You should clearly state that Facebook in no way sponsors or endorses your contest.
As mentioned, Facebook's contest rules change regularly, so it pays to stay up-to-date.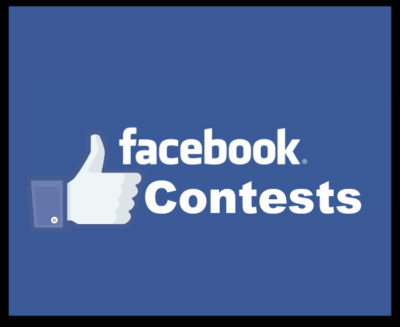 What type of Contest is good for your Facebook marketing?
What do good contests actually look like?
It depends on your business goals. Do you want to increase engagement with likes and shares? Or awareness with impressions? Or maybe you want to drive traffic to your website?
Certain types of contests can pull double-duty. That is, they can focus on one of the above goals, and also collect user-generated content for your social media calendar, or crowdsource opinions, or gather high-quality leads for your sales team.
Facebook Contest Ideas
Let's dive into the GOOD stuff! The following are contest/giveaway ideas you can use for Facebook marketing, lead generation or simply to boost brand awareness on Facebook!
1. A Facebook Live Contest
What better way to generate a buzz about your contest or giveaway than on one of your Lives.
Here's a great strategy for making sure your fans get excited about your contest and stick around for your whole Live:
Announce the contest in your LIVE video description and mention it right at the beginning of your video. Then ask viewers to stick around until the end of the video in order to get the official scoop on how to enter!
You can also use Facebook Live to announce the winner of a contest. This is another great way to ensure your fans tune in for your broadcast.
2. Facebook Giveaways & sweepstakes
Arguably the simplest contest to run is a giveaway.
People are wowed by a desirable prize, and so they perform an action of your choice. The action can be as simple as liking the post or as complicated as producing a video.
3. Caption Contest on Facebook
Caption contests are great as they allow your fans to show a little personality. And, an added bonus is that other entrants will actually enjoy reading through the entries!
This kind of Facebook contest is also preferable to a simple "like this photo to win" contest, as all the engagement on your post will ultimately lead to more exposure in your fans' feeds!
4. Facebook Countdowns
Add a twist to your giveaway by stretching it into a multi-day event. Not only will it make winning seem more likely, returning to your Page several times will increase audience retention, so that people will remember all those positive new opinions about your brand.
Also Read:
Improve Your Facebook SEO: Better search results
5. Fill-in-the-Blank Facebook Contest
This contest is super simple! You just write an incomplete sentence and ask your fans to complete it.
You can use photos to attract attention and caption your photo with the incomplete sentence.
Don't forget to pick a theme that fits with your brand!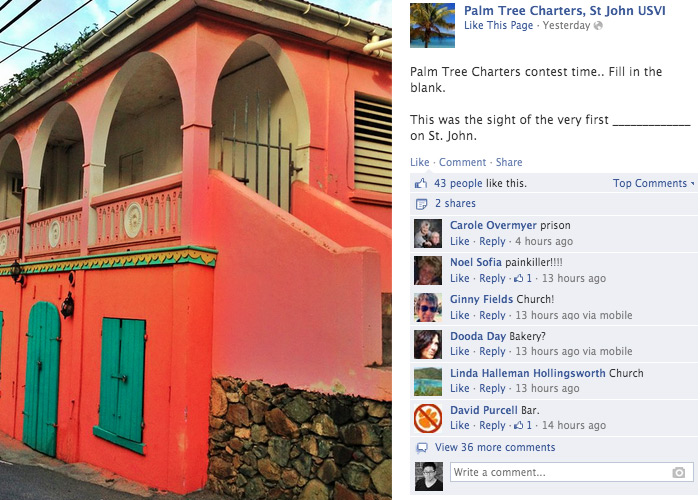 6. Brainy contests
You know what people love in this day and age? Feeling smart.
Trivia, skill-testing questions, puzzles, quizzes. Anything that will make a complicated world feel coherent for one satisfying second.
By combining a prize with that feeling of accomplishment, your contest becomes deeply clickable. (And in some cases maybe you can even skip the prize.)
For instance, National Geographic asked a pretty tough question to feed excitement for the second season of its show Genius. Fans had to pay attention over five days to figure out the clues, which required knowledge of architecture, art history and European history. In return, Nat Geo offered an appropriately lavish (but specific) reward: a heavily-scheduled week in Spain.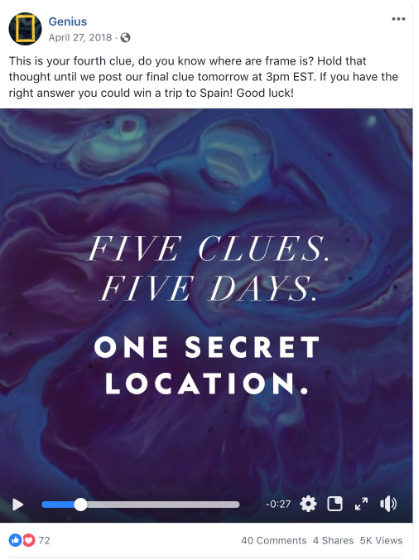 7. Fan of The Week Facebook Contest
Ask your fans to submit a photo or video and then choose the best one. The winner gets to be your fan of the week!
This fan will not only win something, but they'll also have their Facebook profile and content shared with your audience as an added bonus.
8. Photo contests for Facebook
Photo contests are popular for good reason. Not only do they boost activity on your Page, with the right agreements in place, you get to tap into a source of user-generated content for your marketing calendar.
Also Read:
What are the Best Photo Editing Apps for iPhone and Android in 2021 ?
9. Facebook Q&A Contest
Another awesome and easy contest is the Q&A contest.
This can be done in numerous ways.
For example, asking fans a simple question and getting them to submit the right answer. You then pick the winner or winners at random.
Another way is to ask a question and give fans multiple choices (A, B, C, etc).
10. Creative crowdsourcing contests
If you've already convinced people to make the effort to write a word or two, why not ask them to make those words meaningful? Gather insight on your business goals by asking for feedback on a new product name or ideas for improvement. Feed two birds with one scone!
Even if you don't have any burning questions for your customers (come on, yes you do) asking your audience to think creatively is more fun for them. They want to write a funny caption for that photo, fill in the blanks, or tell you their deepest desire vis-à-vis their scheduling software needs.
This contest gets fans to play a role in helping you make your final decision.
It could be as simple as:
Pick a new logo for your business
Decided a new name for a book, menu, etc.
Help decide a book cover
11. Popularity Facebook contests
This is a subspecies of contest which gives the power to the people, rather than relying on random.org to choose the winner. It's especially useful if the contest is at all creative: people can vote for their favorite submission by Liking the relevant comment, photo, or post.
The advantage here is that it encourages sharing without explicitly requiring it.
For instance, if I want that duckling to be named Cage Pooper, I am going to have to tell all my friends to look at that post and vote for my comment that says the duckling should be named Cage Pooper.
12. A Video Contest on Facebook
We've already talked about using Facebook Lives for your Facebook contests, but you can also use pre-recorded videos.
While video contests can be a bit tricky to implement, there are some great tools out there that can automate the entire process.
Each contest you create gets its own unique URL, making it easy to share the contest on or off Facebook
Collect email addresses from each entrant
Add user-voting to your video contests
Also Read:
Best Instagram Video Editor Apps in 2021
Tips for running a Successful Facebook Contest
By now you probably have an idea or two as to what you can offer your audience, and what you can ask for in return. Here are some best practices to keep in mind as you iron out the details.
1. Target your goals
Here are some examples of objectives and goals to choose from before you get started:
Increase brand awareness by increasing impressions
Increase customer affinity by increasing engagement (i.e., likes, shares, comments, reactions)
Drive traffic to your website by increasing click-throughs to a landing page
Collect user-generated content for future marketing use
Gather audience feedback on products or services
Identify leads by collecting email addresses
2. Know your audience
You want your contest to attract people who will like your brand, not people who like large cash prizes (a.k.a. everyone).
Choose a prize that would appeal to your perfect customer.
3. Keep it simple
The vast majority of Facebook users are on mobile, so design your contest experience for a variety of devices and operating systems.
If your contest requires a landing page, keep it as low-effort as possible.
4. Promote your contest
Leverage your other marketing channels. Whether your contest is for Facebook alone, or is running simultaneously on your other social profiles, make sure to post about it.
Final Thoughts
To sum up, there are so many creative contest ideas on Facebook for driving traffic and engagement to your page and website. These ideas are only the tip of the iceberg!
Let your creativity run wild. As a matter of fact, you are only limited by your imagination.
Finally, do you have any other timeline contest ideas to add to this list?