How to increase the level of user interaction, engagement and reach in Facebook marketing? How can you improve your Facebook engagement in 2021? Social media marketing is the best way for increasing user engagement as well as improving brand image. In this article, we provide tips and techniques to attract more users and increase their engagement in Facebook.
Facebook engagement
Facebook, as the largest social network present, is a place where many popular brands use very strong marketing strategies. The biggest challenge in Facebook marketing may be How to engage users with a post?
Users cannot be expected to visit a Facebook page full of information and advertising on a daily basis.
So, in order to draw users' attention to Facebook pages, something special must be provided.
How to get the most interactions from users through each post on Facebook ? Which kind of content do users think is worthless and which one is not useful for them?
Here are some tricks to achieve more interactions and improve your Facebook marketing through more engagement:
1. Facebook Competition for more engagement
Most people are interested in competitions so much that they are often looking for them to participate in.
Holding competitions and awarding valuable and exquisite prizes is a great way to attract more traffic to your Facebook pages.
Competitions not only increase the number of your followers, it also help you to get more engagement and interaction.
(Note: Facebook account is different from the Facebook pages. In fact, you first create a Facebook account and then create a Facebook page through it.)
In order to hold competitions on Facebook, users must be asked to do something. For example, the conditions for entering the contest can be one of the following: tagging a friend, commenting, sharing a post, etc.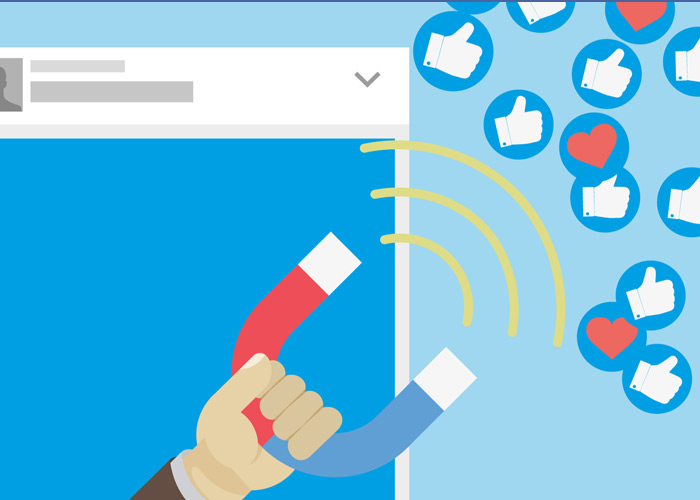 In the process of holding the contest, you will see that a large number of users will frequently refer to your Facebook page to find out the names of the winners (it increases the traffic).
Also, a large number of new followers will join you.
Also Read:
Improve Your Facebook SEO: Better search results
2. Use Facebook ads to improve engagement
Even if the quality of a page's posts is excellent, a large number of target audiences will not always see them.
Fortunately, with the help of Facebook ads and their publishing methods, a content can be exposed to all followers.
3. Asking questions for more Facebook interaction
Do you want to learn more about your target audience?
To obtain this, you can rely on different types of data and sources. In addition to these resources, face-to-face communication can also be very useful.
Why not ask questions about customers directly? So it is better to act a little bolder and ask them our questions directly.
For example:
"What do they expect from the brand and what changes and improvements do they want to see?"
Facebook is a great platform to discover the answers to these questions. Asking questions engages users because it encourages them to talk about themselves and their interests.
Also Read:
How to Find Your Target Audience on Instagram
4. Engage your Facebook audience by CTA
Posting quality content will always make a difference. Moreover, it adds value to a Facebook page. But if the content is not accompanied by a "Call to action", you can not expect high interaction and engagement.
A "Call to action" is simply a request to interact with users in simple language.
For example, ask users to like, share or post a comment.
Users always need such stimuli to engage with posts.
5. Improve visual quality for more Facebook engagement
A related image can have far more interactions than a great text because humans are visual beings.
Very interesting statistics have been published in this regard:
In 2016, at least 51% of B2B marketers prioritized visual content at the top of their marketing.
Do not forget that the cover image and profile picture are very important.
Information about your brand can be conveyed in an attractive way. Also, the quality of the submitted images and videos should never be overlooked.
Also Read:
What are the Best Photo Editing Apps for iPhone and Android in 2021 ?
6. Improve your user engagement by Checking competitors
How can you be superior to your competitors?
Review what they offer and provide more creative and valuable content. When competing with many brands, you have no choice but to do so.
Either you adapt yourself to the conditions or you accept the failure!
What do business competitors do to succeed?
The purpose of these studies is not to copy their strategies and actions, but to gain ns insight. It helps to improve approaches and prevent possible errors.
In other words, one effective way to improve performance is to look at their mistakes and prevent yourself from repeating them.
7. Increase Facebook engagement by other social media channels
Social media marketing strategies are certainly not limited to Facebook. You need to be active on other social media (such as LinkedIn, Twitter , Instagram , Telegram , etc.). You should try to get a lot of traffic from these media to Facebook. This way you can increase your engagement easily.
To redirect users from other media to the Facebook page, all you have to do is placing a link. You can put your Facebook page link in the profile description section of those media channels.
Of course, it would be better if the shared link is one of the most important posts.
If the value and usefulness of Facebook content is proven to users of other social media, they will be eager to follow the brand in Facebook platform as well.
Also Read:
How to get verified on Facebook?
8. Different content formats for your Facebook page
It has been proven that you should include images and videos in your content updates in order to make it more attractive. But doing so does not necessarily lead to more engagement!
To increase interaction and engagement with Facebook users, you need to share your updates in different types of content .
Instead of sharing a video from another source, why not turning your content into a video ?!
This means creating a new format of content. You don't need to copy videos and images from other sources. They may have been viewed over and over again on other pages. Instead, try creating your attractive brand new content in different types of formats.
9. Posting frequency: important for gaining engagement on Facebook
Many experienced Facebook marketers believe that "more posts will not lead to more engagement", but this comment is not necessarily correct!
In the past, "sending 2 posts a day" was the golden rule. However, this rule is only valid if a very large audience is available.
According to some researches on the smaller audience community, sending 2 posts a day leads to a 50% reduction in user interaction.
Basically, choosing the right method is one of the most important parts of marketing. Your own method will determine the number of your posts per day.
If your audience likes your content and you have more data to share, keep posting regularly.
But if you have not been able to get the amount of engagement you expected, try to improve the quality of posts before increasing the number of posts.
10. Time of posting for more Facebook engagement
though Facebook is available 24 hours a day, you should not post new posts at any time and expect high participation from users!
Proper timing plays a very important role in increasing user engagement.
To get more interaction, you need to share and post content when most of your target audience is on Facebook.
For example, if your target audience is employees or people in the age group of 30 to 40, you probably should not send posts late at night, early in the morning and during office hours.
The best time to post on social media is different for each business, but you can find the best time by reading reviews and asking followers.
Post at different times of the day and see what hours of the day you receive the most interactions from your target audience. For example, at what time of day or night did you get the most likes or the most comments?
conclusion
In short, as we all know that it is difficult to communicate and interact with users. Getting more engagement from Facebook users needs strategies and efforts.
Encouraging people to like, comment, share, etc. is not an easy task, and to achieve this, you need to be constantly active and improve the quality of your presence on Facebook.